Griffin Beacon makes your iPhone 4 a universal remote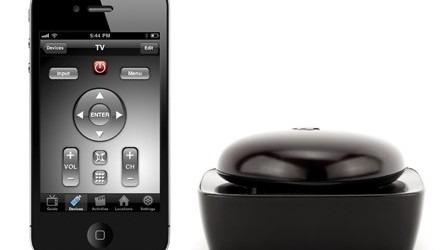 It may look like the buzzer for some brilliant TV game show, but this is actually Griffin Technology's Beacon, another option for turning your iPhone, iPad or iPod touch into a universal remote control. As we've seen from other companies, Beacon hooks up to your iOS device via Bluetooth, and then squirts our IR commands sent from the custom Griffin app.
The app itself is provided by Dijit, and comes with a library of IR codes for different TVs, STBs, A/V receivers and more. It'll also learn new codes if you've got some particularly unusual hardware.
Griffin reckon the Beacon unit itself will last for up to two months on a set of four AA batteries. It'll go on sale later in 2011, priced at $79.99.
Press Release:
Griffin and Dijit Turn Your Mobile Device into a Universal Remote

Beacon Universal Remote controls an entire entertainment system from a mobile device.

Nashville, TN — January 5, 2011 — Griffin Technology, maker of innovations for everyday life, has partnered with software developer Dijit to turn your favorite iOS or smartphone device into a Universal Remote Control. Beacon allows fingertip control of your entire entertainment system, thanks to hardware and app integration from Griffin and Dijit. The system will be available for demonstration during CES, beginning January 6th, in the Griffin booth, iLounge Pavilion — North Hall #4727, and in the Dijit booth, iLounge Pavilion — North Hall #4137.

"Beacon allows control over the entire home theater setup, all from a pocket-sized device," said Matt Brown, Director of Product Development at Griffin. "Together with Dijit, we have created a powerful tool that really simplifies the entertainment experience by providing a customized program guide for all of your content in the home."

"Our partnership with Griffin Technology is making it possible for consumers to easily control their entertainment content from any iOS or smartphone device," said Maksim Ioffe, Founder and CEO of Dijit. "The Beacon brings flawless fingertip search and discovery of all of your entertainment content all from your smartphone."

Beacon turns an iOS or smartphone device into a handy, easy-to-use remote for home entertainment systems by converting Bluetooth signals from your device to the infrared commands your components are expecting. Beacon pairs your iOS device or smartphone with Dijit's Universal Remote App, putting complete control of your home entertainment center in the palm of your hand. There are no bulky cases or dongles, no messy wires or cables.

Setup and pairing is simple. Paired with Beacon via Bluetooth, your smartphone is just a few taps away from using Dijit's intuitive Programming Guide. Your Multi-Touch or touch screen display is the remote. You can change channels, volume, input, program your DVR, and lots, lots more.

The Dijit app uses a constantly updated device code library to make setting up controls for your TV, set-top box, sound system, media players and more simple and intuitive. For components not yet included in Dijit's library, the app also includes an integrated learning feature.

Key Features:

Wireless universal audio/video controller for iOS and other smartphone platforms

Low-profile component designed to blend unobtrusively with any decor on your coffee table

Use your iOS or smartphone device as a powerful universal remote control, without dongles or cases

Converts Bluetooth signals from your iOS or smartphone device to infrared signals required to control AV components

For use with Dijit's Universal Remote app, a free download from the App Store

No wires or power cables; runs up to two months on 4 AA batteries

Pricing and Availability

Beacon, $79.99, will be available May 2011.