GreenHouse launched 32GB Compact Flash with UDMA Support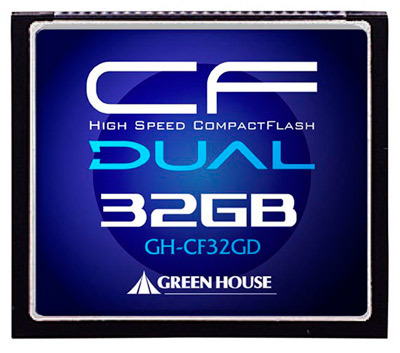 The Japan-based Greenhouse has launched a new series of high speed Compact Flash GH-CF-GTX at 300x transfer speed. Four models of 4GB, 8GB, 16GB and 32GB are available. Unlike the professional models from Sandisk's Ducati or Lexar's Pro, it's the company much affordable model but does come equipped with a dual-channel UDMA data access chip which works best for digital single-lens reflex cameras or card reader with UDMA support.
GreenHouse 300x CF has a data transfer rate of 37 MB/ sec (read), 19MB/s (write) corresponding to the UDMA high speed compact flash realization and dual-channel simultaneous data access . The casing is adopting an eco-friendly low lead material. Also, it supports ECC (Error Control Code) function which can detect data error and repair automatically.
The product will hit the street of Akihabara by mid-December. The price is expected at USD$70, USD$102, USD$170 and USD$257 respectively.