Green eGenius electric aircraft takes maiden voyage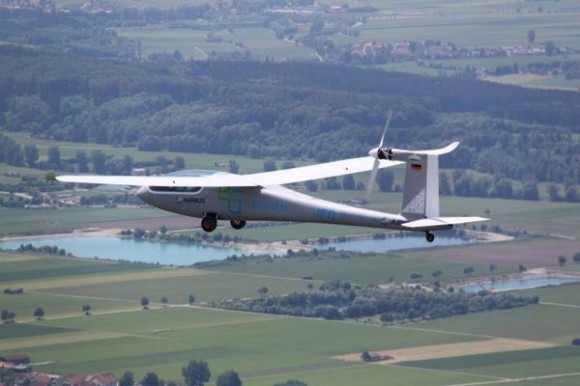 Generally when we most of us think about green methods of transport electric and hybrid cars come to mind. There is also a big green push in the aviation industry as well to get aircraft that are more efficient and produce less pollution. A new green aircraft called the eGenius electric airplane has taken its maiden voyage. This aircraft looks more like a glider than a Cessna and has a propeller mounted on the tail in the back of the plane.
The eGenius concept was designed by a team from the University of Stuggart Institute of Aircraft Design. The project was funded by major aviation company Airbus. The Airbus future Projects team is evaluating the data collected on the maiden flight. The eGenius has a wingspan of 55.4-feet and a hull length of 26.6-feet. The cockpit is 3.6-feet wide and it has two seats in a side-by-side configuration.
The propeller on the tail is powered by an electric motor with 60kW power at 2,000 RPM. It has a maximum takeoff weight of 1,874 pounds and can carry two passengers at less than 397 pounds combined. The cruising speed is 146 mph for up to 248.5 miles. That is impressive range and speed for an electric only powered aircraft.
[via Gizmag]