Graph Search gets pre-emptive Facebook Privacy Guarantee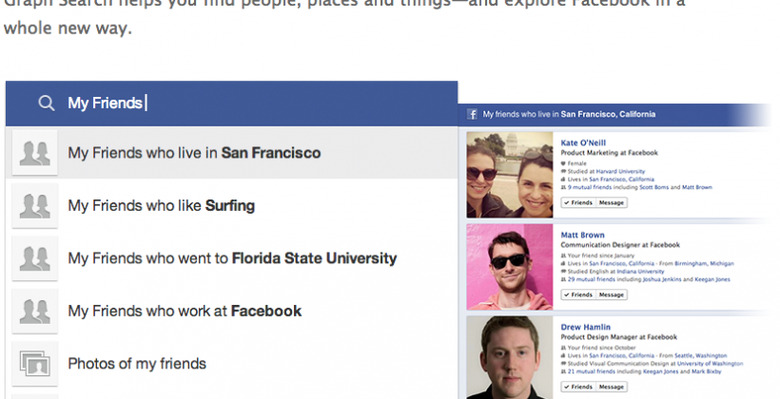 This week the folks at Facebook are going full-throttle on not just Graph Search, but the privacy measures they've put in place to make sure people don't fear its arrival. You'll find that the "How Privacy Works with Graph Search" page in Facebook's archives is much more extensive than the actual introduction to Graph Search itself, it including a collection of ways users are going to be able to keep themselves as private as they want. This includes connections, photos, and even locations you've visited in the past, Facebook's developers making it clear how you can assure you'll not be discovered in any position you'd rather not show your friends.
First of all, it's important to know that Facebook's Graph Search will not reveal any bit of information that you've not already got set to public. No user will be able to find information about you that they weren't able to in the past. This Graph Search project is just a much, much better way for people to find what they want faster than before.
You'll be able to see who can see what city you're currently in by heading to your About tab in Facebook. Developers at Facebook have created the following video to show you how you can edit this space easily. (This video also goes over Graph Search in a general way.)
For photos and tags, you're going to be able to review the photos you've shared or have been tagged in with this relatively new Photo Activity Log – it's been here before, but may be more relevant than ever here with Graph Search. There's also a video here about tagging that you may want to watch, too.
Finally there's Places – this sort of thing gets logged when you "check in" at restaurants around your city and the world. You'll be able to review or remove location tags of yourself via the Posts You're Tagged In section of that same Activity Log you were just at for Photos.
And it's just that easy! Have a peek at the Graph Search timeline below to learn more about this feature that'll be coming to Facebook soon!