Granny Smith brings elderly roller-skating action to TegraZone for Android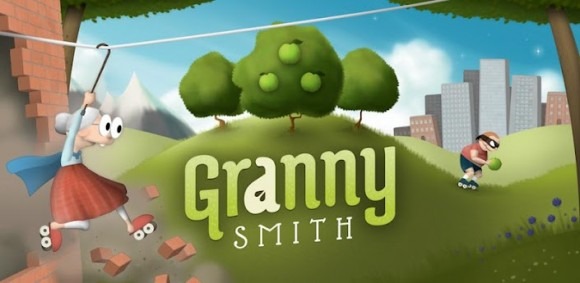 If you're a lover of ragdoll physics and tossing grandmothers down flights of stairs, you're going to love the newest title announced for Tegra devices – Granny Smith. This game has been revealed by the same folks who brought you Sprinkle – a game Android Community had a look at several months ago, also on Tegra-toting Android smartphones and tablets. Now it's time for some four – or eight – wheeled action down a few hills and through a few brick walls while we're at it.
This game has Granny Smith chasing after a thief whose taken a bunch of her precious apples – and that's no metaphor. This game has you, the granny herself, rolling around a bunch of cityscapes and farmland, offices and panes of glass after panes of glass to get where you're going. You'll have replay mode to make sure you see the sweetest crashes and fabulously realistic physics run by your NVIDIA Tegra 3 quad-core processor for all the fun you can handle. Have a peek at some value-added features in this Android game of madness, per the development team:
• Spectacular physics – Granny Smith uses some of the most advanced destruction physics in mobile games. Crash through crates and windows and watch the pieces fly all over!

• Dazzling visuals – Zoom through dozens of vibrant, whimsical worlds! Each level is like a fanciful, three-dimensional storybook.

• Intuitive controls – Help Granny pull off crazy moves with simple two-button controls – perfect for both tablets and phones.

• Vintage replays – Watch your best runs in retro movie style with cool camera angles and slow-motion effects!

• Power Granny up – Collect coins and equip Granny with a helmet, banana peels and baseballs. If Granny is getting old, you have two alternative characters to play with – Scruffy and Stanley!
Granny Smith comes with 36 hand crafted levels so you'll never grow bored of smashing – and three different settings for each level are included as well. This game has been released just today to the NVIDIA TegraZone and the Google Play app store for your consumption – go grab it instantly for your Tegra 3 tablet or smartphone!