Grandstream GXV3140 plug-&-play IP multimedia phone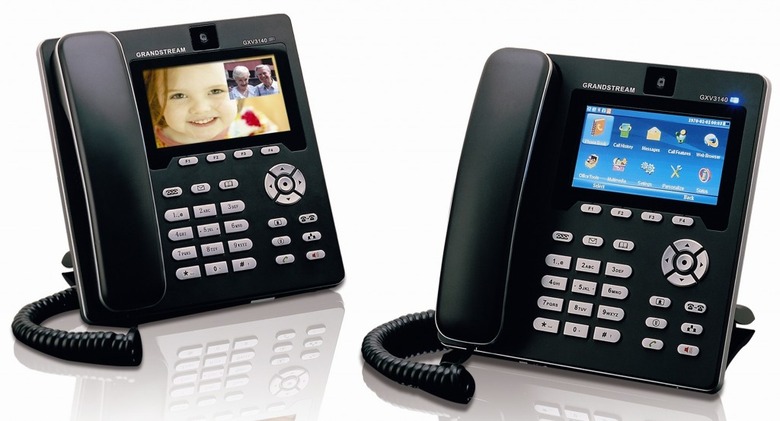 Grandstream have announced a new IP phone, the GXV3140 IP Multimedia Phone, and unlike most of its rivals this isn't a launch solely for the benefit of big enterprise customers.  The Grandstream GXV3140 supports VoIP and video conferencing via an integrated 1.3-megapixel webcam, together with IM, internet access and streaming radio, and the company claim that out-of-the-box you can be making video calls within minutes of plugging it into a broadband router.
That's a big difference to most IP phones, which require a background server.  The GXV3140 has a 4.3-inch 480 x 272 color LCD display, dual ethernet ports, SD and USB connections, plus TV and stereo audio outputs, a stereo headset jack and a full-duplex speakerphone.  Three separate SIP accounts can be loaded simultaneously.
As for internet access, the full HTML browser can show Flickr photo streams, Last.fm music, RSS feeds and more.  The Grandstream GXV3140 IP multimedia phone will go on sale in early May, priced at $299.
Press Release:
Grandstream Announces the GXV3140 IP Multimedia Phone

The GXV3140 Combines Rich Multimedia Applications with Best-in-Class Personal Video Telephony

BROOKLINE, Mass. & ORLANDO, Fla. –(Business Wire)– Mar 30, 2009 Grandstream Networks, the leading designer and manufacturer of next generation IP voice and video solutions, is pleased to announce the GXV3140 IP multimedia phone. The GXV3140's extraordinary video quality, advanced telephony features and rich multimedia applications distinguish this product in a unique class of its own.

The GXV3140 splendidly blends state-of-the-art real time video conference capability with a number of popular web and social networking applications. It features an advanced 1.3M pixel tilt capable CMOS camera (with privacy shutter), a 4.3" 480x272 digital color LCD, dual Ethernet ports, SD & USB, a stereo headset jack, TV-out, stereo audio-out, and a full duplex speakerphone. It supports a full HTML web browser, IM with Yahoo/MSN/Google, thousands of internet radio stations, popular online music networks such as Last.fm, Yahoo Flickr web photo album, personalized RSS feeds of news/weather/stock/currencies, calendar, alarm clock, and 9 languages (English, Spanish, Chinese, Japanese, Korean, French, German, Italian, Portuguese). The GXV3140 will support an even greater selection of music and photo networks as well as streaming from popular video sites in the very near future.

The GXV3140 raises the bar for personal multimedia communication by combining a number of cutting edge technologies. Such technologies include: a zero touch plug-and-play deployment, advanced audio/video streaming, hands-off personalization of news/weather/language/time based on automated detection of a users' location, and 1-touch instant access to popular music/radio/photo/video sites and social networks.

The GXV3140 also incorporates a feature that will enable users to communicate with each other for FREE right out of the box through Grandstream's industry leading peer-to-peer technology. The GXV3140 will boot up within minutes, ready for making video calls with ZERO configurations when the user plugs the device into a broadband router at home. With this smart peering plug-and-play technology, friends and family can connect with each other through high quality real-time video conferencing over any distance without a charge.

In addition to serving the consumer market, the GXV3140 presents an attractive solution for service providers (especially SIP trunk service providers). Internet Service Providers can offer video telephony and rich multimedia applications bundled with worldwide traditional PSTN termination and E911 service. The GXV3140 supports 3 independent SIP accounts, nearly all popular voice codecs, and leverages Grandstream's field proven, broadly interoperable SIP technology.

"The GXV3140 is the most advanced and Web friendly IP multimedia phone on the market. By marrying social multimedia applications and IP video conferencing, it offers the consumer market an aesthetically appealing visual communications and entertainment experience," says David Li, CEO of Grandstream. "The GXV3140 provides a strong alternative to travel, allowing consumers or business users to stay closely connected with friends, family, colleagues and business partners located around the world for minimum cost. In today's economic downturn, such a device is critical. Consumers can maintain frequent visual contact with their loved ones while sparing their discretionary income. In addition, they can enjoy Web entertainment and social networking through 1-touch access on the GXV3140 without using a PC. Grandstream is very pleased to bring this innovative IP multimedia product and the tremendously rich social entertainment experience behind it to the consumer market."

The GXV3140 will be generally available through Grandstream's worldwide channel partners in early May for a manufacturer suggested retail price of $299.