Grand Theft Auto V details leak in magazine article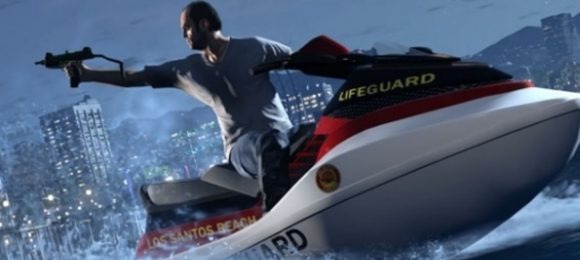 While Game Informer might have released some more details of Grand Theft Auto V in their latest issue, another magazine has a few more details to throw at us. ShortList Magazine leaked a screenshot from the game, as well as some background info on one of the protagonists in the magazine's latest issue.
The screenshot is of what appears to be one of the game's protagonists riding a personal watercraft and firing a submachine gun back at what we think are police officers trying to catch him. The personal watercraft has "Los Santos Beach" and "Lifeguard" inscribed on it, which makes us believe that the watercraft was stolen (obviously).
The magazine also provides us with a few details and some background information about the protagonist. The magazine explains that "the protagonist is an East Coast gangster" who moved to Los Santos (Rockstar's take on Los Angeles) for a fresh, new start. "But, as in The Godfather III – just as he thought he was out, they pulled him back in."
The screenshot has since been removed, proving that we now bear an important leaked piece of Grand Theft Auto V information. While gamers were able to operate watercrafts in past Grand Theft Auto installments, maybe we'll see more interactive features dealing with that front in the upcoming sequel.
[via Digital Spy]