Grand Theft Auto: IV is here, with some goodies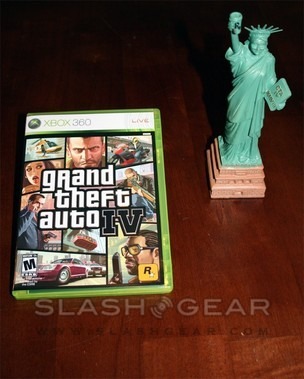 Apparently some game called Grand Theft Something-or-Other launched earlier this week. Since people are making such a big deal about it, I figure it's my duty here at SlashGear to test it out and see what all of the fuss is. Luckily my copy showed up yesterday, so I don't even need to leave my house, for days.
My copy came with a few extra goodies from Rockstar that I thought I'd show you. These aren't the ones that came with the Special Edition of the game, but are very cool in their own respect. First, we have the Stature of Happiness. It bears a striking resemblance to something, but I just can't seem to put my finger on it. I know it's a major landmark in the game, but I think I've seen it somewhere else.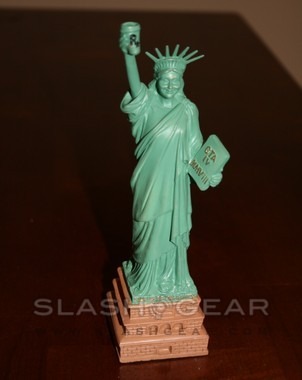 I also got a pack of stickers in the box. I'm not the kind of guy that normally likes stickers and all, but these are awesome. I'd spell out the references in a few of the stickers, but seriously, if you're playing a game like this, you should already be laughing.