Gramovox Bluetooth Gramophone 2.0 ships in November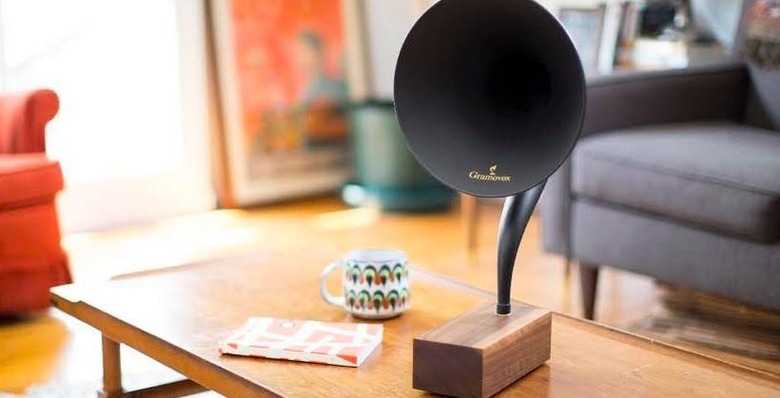 Those who want a touch of hipster-chic in their homes but don't want to fully embrace retro technology can find a nice compromise between the two with Gramovox's Bluetooth Gramophone 2.0, an updated version of its first Bluetooth Gramophone. The audio player can stream music from your mobile device, but does so without making it obvious — to those unaware, it simply looks like a small wooden box with a large horn speaker.
Gramovox first introduced its wireless Gramophone back in 2013; this latest version updates the original design in a few ways, including by adding more bass via the inclusion of an extra driver. This makes it suitable for playing modern music in addition to more classic tracks.
One of the drivers is dedicated to mid-range frequencies, says Gramovox, while the other is dedicated to the bass frequencies. The music is then delivered up through the horn speaker. The device is compatible with both iOS and Android phones/tablets; it has an integrated battery, which offers a 12 hour run time per charge.
There's a 33ft range with Bluetooth, and a stereo port for wired use. The Gramophone itself, meanwhile, measures in at a little under two feet in height. The unit is priced at $349.99 USD, and is available for preorder now; shipping will start some time next month.