Grace Digital Bluetooth receivers make ancient speakers usable again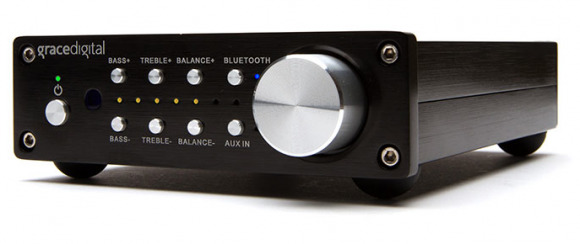 This week there's a couple of new devices arriving from Grace Digital that may very well be the one thing that makes that ancient set of speakers you've been keeping in the garage worth the years of nagging from your significant other. Why don't you get rid of those old things? You're never going to use them, everything is wireless these days! Here's why: the GDI-BTAR122 (24 watt) and GDI-BTAR502 (100 watt) from Grace Digital work with Bluetooth 4.0 and connect to your old speakers – like the future attaching to the past, so to speak.
These devices are both class D digital amplifiers and are able to power "any standard bookshelf speakers" and work with the option to provide line-out connectivity with powered speakers as well. Both machines work with a size of 4.9 x 5.9 x 1.3 inches and work with a simple set of controls up front. One massive volume knob sits up front on the right of this unit while a collection of buttons appear to its left.
There you'll find Bass up and down, Treble up and down, and Balance – up and down, left and right, wherever you happen to have your speakers situated. There's single button for Power and a green light to indicate it, a single button to toggle whether you're using powered powered speakers or not – Aux toggle, that is – and a Bluetooth button. Bluetooth connectivity is indicated with a simple blue light, while a line of orange lights sit up front showing the level of any one adjustable you've just modified.
These units will begin to be available immediately if not soon for a price range of $99.99 to $169.99, depending on your need for massive wattage. Both units work with a 2-amp USB charging port for smartphones and tablets, "professional grade" aluminum housings, and connectivity with your full range of Bluetooth products – Android devices, iPhones, iPads, Windows Phones, and your desktop computer included. With the GDI-BTAR501 model, you'll also be working with AptX.