Grace Digital Audio unveils new waterproof outdoor wireless speakers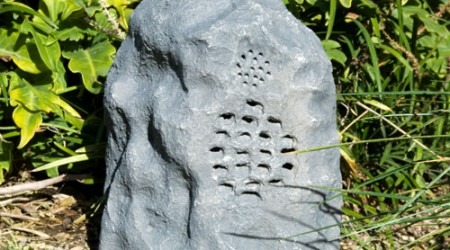 Grace Digital Audio has all manner of cool gear for fans of music that are looking to get their digital fill in multiple rooms and outside. The company has unveiled a new line of wireless speakers that are waterproof and designed to be placed outdoors. The new line includes the Rock Speaker, Schooner II, and Mini-bullets II.
The Rock speaker looks unsurprisingly like a rock. It has a 1x1" tweeter and a 1 x 4" full range speaker inside. It measures 12.13" x 15.51" x 14.29" and gets power from an integrated rechargeable battery or a 15V AC adapter. The wireless range is 150 feet from the source and its battery is good for seven hours.
The Schooner II line is a system with a pair of wireless speakers with carry handles built-in. They speaker housings are IPX3 certified waterproof and have the same 150-foot wireless range and 7-hour battery life. The Mini-bullets II speakers come in a pair with a 1 x 3" full range speaker and double bass boost tech. Power comes from a 9V AC adapter and they can run on six AA batteries. Wireless range is 150-feet and the batteries are good for 7 hours of use. The Rock Speaker is $149.99, Schooner II is $129.99, and Mini-bullets II are $99.99 with all available right now.