GPD Win Intel Z8550 is a Windows 10 game console that fits in a pocket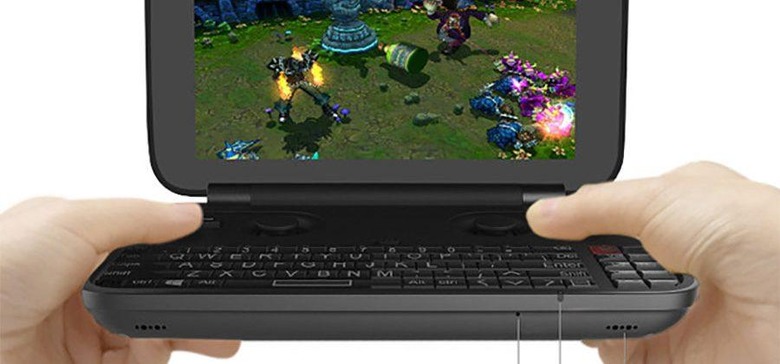 PC gamers who want to be able to play their favorite games on the go without having to schlep around a full size notebook will want to check out the GPD WIN Intel Z8550 Windows 10 game console. That is definitely a long name for what is essentially a tiny notebook computer made just for gaming that is small enough to fit into a pocket.
The tiny little computer has a 5.5-inch display and runs an Intel Atom Cherry Trail X5-Z8500 processor. The 5.5-inch screen supports 720p resolution and the operating system is Windows 10. The machine has an integrated joystick and D-pad on the left side above the tiny keyboard. On the right side above the keyboard are another joystick with a mouse switch and four buttons.
Charging of the device is via a micro USB cable and the machine has 64GB of internal storage. It can also be connected directly to a TV via a Mini HDMI output. The console measures 9.7cm x 15.5cm x 2.2cm. Other hardware features include 4GB of RAM and a 6000 mAh internal battery. The screen is covered in third generation Gorilla Glass and has capacitive multi-touch and 267ppi. The notebook also has WiFi and Bluetooth. One way the machine can be sold at such a low price is because Windows 10 is free for devices with screen smaller than 10.1-inches.
The project is on Indiegogo seeking $100,000 and has raised almost $400,000 at the time of writing with eight days to go. A pledge of $299 will get you one GPD Win game console with shipping estimated to be October 2016.
SOURCE: Indiegogo