Goose The Cat From Captain Marvel's Livestream Left Us Wanting More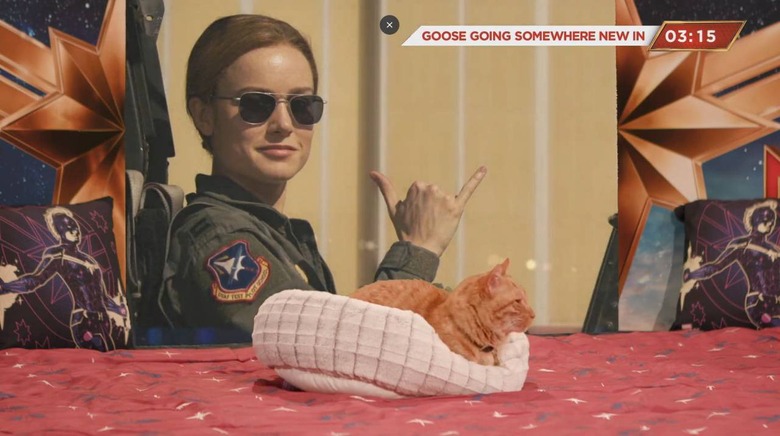 Throughout Marvel and Disney's extensive marketing campaign for Captain Marvel, there's been one character from the movie who has completely captured the hearts of fans: Goose the cat. We've seen Goose in a number of different marketing materials, from posters to trailers, but today, Marvel went even bigger, giving Goose his own livestream.
Yes, for about an hour this afternoon, Marvel hosted a livestream that was nothing but Goose the cat doing various cat things. Those things included climbing, exploring the set made of up Captain Marvel promotional materials, eating food, drinking water, and at one point even taking a snooze in front of a green screen image of Carol Danvers. What's not to like?
Action fans might not find a whole lot to love in this livestream, as it's a pretty laid back affair. Cat lovers, however, will probably want to watch from the beginning even if they have no interest in superhero movies. At one point, even Samuel L. Jackson stops by to give Goose some scratches, but unfortunately for him, Goose seems more interested in what's in his dish.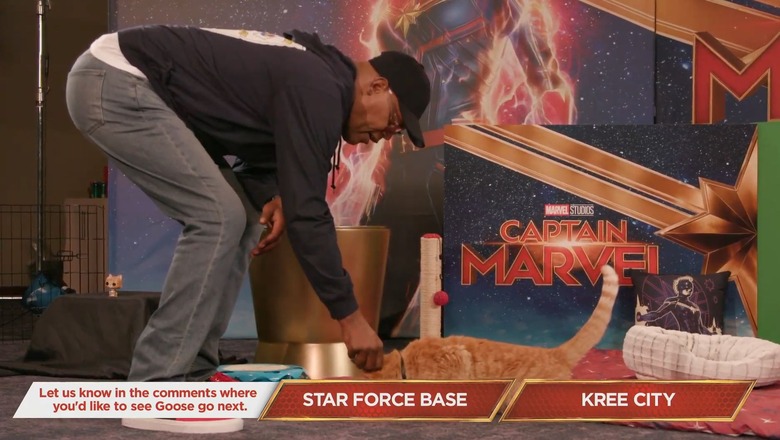 The livestream, in our opinion, was a smashing success, and since Captain Marvel isn't out for another couple of weeks, hopefully that means this wasn't the last Goose livestream we'll see. At the very least, we could certainly use some more Goose-centric marketing in this final stretch before the film premieres.
Captain Marvel is a fairly big movie for Disney. Not only is it the first female-led superhero movie Marvel has produced, but Danvers is unquestionably the most powerful superhero to make it into the Marvel Cinematic Universe. Though her solo movie is set in the 1990s, it sounds like she'll also feature heavily in the next Avengers movie as well, assisting the remaining heroes in their fight against Thanos. We'll keep an eye on Marvel's YouTube and let you know if any more Goose the cat streams pop up before the film debuts on March 8, so stay tuned.