Google's Schmidt tells grads to turn off the screen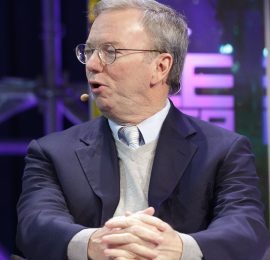 Google chairman Eric Schmidt told graduates from Boston University to turn off the screen for an hour a day. Schmidt gave the bit of advice to graduates while delivering an address focused on the benefits of electronic tools and social media. Apparently, Schmidt didn't talk about headlines in the tech world such as the Facebook IPO.
Rather, he gave traditional college graduation speech of not being worried about failure and urged grads to set high goals. CNET reports that several people in the audience at the speech were tweeting little tidbits, which is certainly not uncommon in today's highly connected age. Schmidt wants people to turn off the screen and "look in the eyes of the person you love."
The funny part is, during the speech Schmidt remarked about how connected people were today and said, "Some of you are probably tweeting the speech right now." CNET reports that at least a dozen people were, in fact, tweeting Schmidt's speech.
Schmidt said in part during his speech, "Take one hour a day and turn that thing off. Take your eyes off that screen and look into the eyes of the person you love. Have a conversation, a real conversation."
[via CNET]