Google's recycled paper mill datacenter uses seawater for green cooling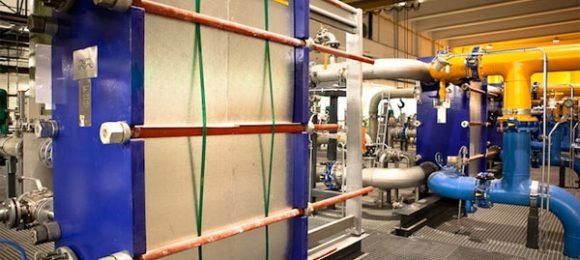 We all know that Google is big on green. The company has huge investments in solar power, wind power, and more green sources of renewable energy. This green push isn't something new at Google; it's been going on for years. Way back in 2009 Google bought an abandoned paper mill located in Hamina, Finland at a price right at $52 million. Placing a high-tech datacenter for a company as big as Google inside a 56-year-old abandoned paper mill seems very strange at first glance.
It doesn't seem so strange when we look at the infrastructure inside the building, you can see straight away what attracted Google to the location. The old paper mill has a massive underground tunnel that runs from inside the building to the Gulf of Finland where it slurps up cold ocean water. That cold ocean water was originally used to cool a steam plant inside the paper mill. Google wants to use that massive tube that runs into the Gulf to grab cold ocean water to help cool the massive array of servers that will be inside the building.
The cold ocean water will be fed to a heat exchanger to cool the hot servers, which would help make this a green facility and keep all the servers inside the building running at a frosty temperature. The underground tunnel to the Gulf, which was the big selling feature for Google, spans 450m and tunnels through solid granite bedrock. Before making the purchase, Google sent robots with cameras through the long tunnel to ensure that it was in good condition. The old paper mill was previously owned by Finnish pulp and paper maker Stora Enso. The company closed the mill in 2008 citing poor profits. Google has previously eyed cold climates to place its data centers so it could use the frosty climate for cooling and reduce the power needed for cooling servers inside the locations.
"When someone tells you we've selected the next data center site and it's a paper mill built back in 1953, your first reaction might be: 'What the hell are you talking about?,'" says Joe Kava, Google head of datacenter operations and construction. "'How am I going to make that a data center?' But we were actually excited to learn that the mill used sea water for cooling.... We wanted to make this as a green a facility as possible, and reusing existing infrastructure is a big part of that."
[via Wired]