Google's quick-loading AMP pages arrive in mobile search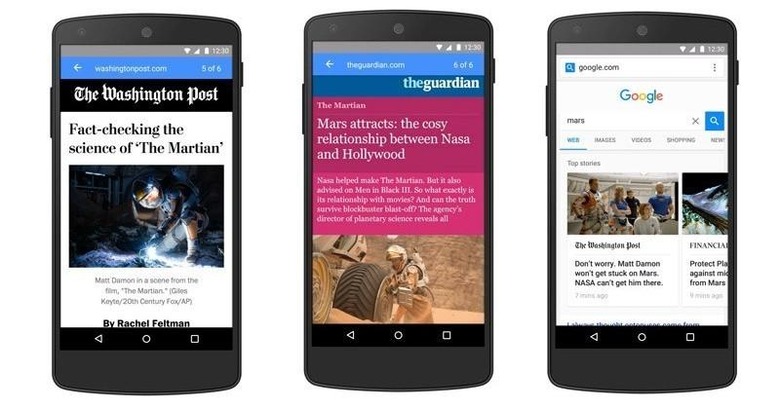 Back in October 2015, Google announced an open-source project called Accelerated Mobile Pages, AMP for short, which essentially produces svelte, lightweight renditions of publishers' websites — these AMP pages load much faster on mobile devices, and will hopefully encourage users to remain on the site longer. By November we'd heard that the AMP sites would be launching in early 2016, and that brings us to Google's announcement today: AMP results have arrived in Search.
The only thing users need to know about AMP is that the pages load fast, and they're now front-and-center. As of today, AMP pages will appear in the Top Stories section of the search results page on mobile devices. Click one of those links and the page will open almost instantly. Swipe to the left and more AMP pages will automatically load, as well.
According to Google, it has seen hundreds of publishers and more all get onboard with the AMP project. Stories from those publishers will load about four times faster than a regular page, and will use up 10 times less data, making them mobile-friendly in more than one way.
Google isn't the only company to introduce faster-loading content. Facebook has done something similar with its Instant Articles platform, which allows participating publishers to have their content pre-load as a Facebook user scrolls near it, causing it to load "instantly" when clicked. Facebook just recently announced that Instant Articles will be opening to all publishers in April.
SOURCE: Google