Google's Photovine iOS App Launches [Hands-On]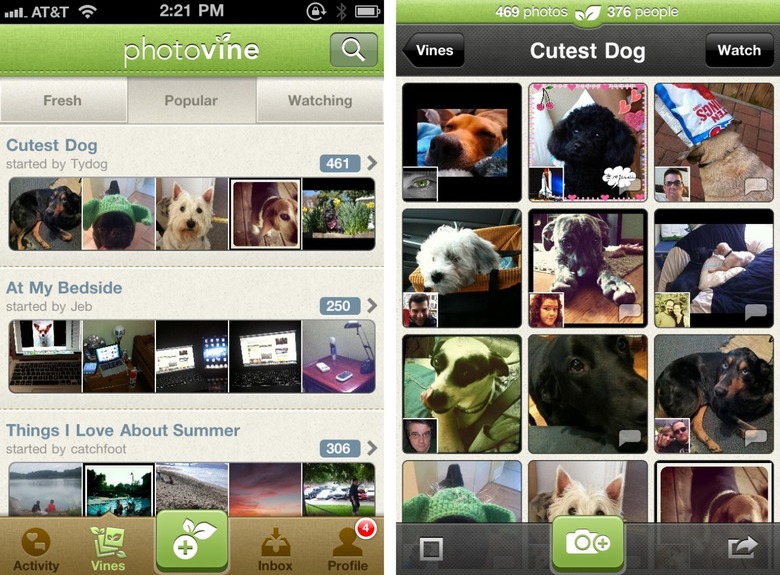 Google has officially launched its photo-sharing iPhone app called Photovine, which they first revealed back in July. The app lets you share images based on themes or in this case, "Vines." It aims to integrate more social elements to encourage photo sharing and create "a fun way to learn more about your friends, meet new people, and share your world like never before." So, how is it different, better, or worse than other photo-sharing apps? Well, let's take a closer look.
The themes or vines range from "Cutest Dog" to "How Weekends Are Spent" to "Things I Love About Summer" and the list goes on and grows continually. The vines work like public photo albums to which users can contribute their relevant images. You can also start your own vines and see them grow as other users contribute photos to them. To browse the vines, you have the option of viewing the most recent or "Fresh" as well as the most popular, meaning the ones with the most photos.
You can view photos one by one or in a grid layout. With each photo, there are options to "Like" or add a comment. You can also flag any photos you deem inappropriate. Additionally, small thumbnails of contributor profile images appear alongside their photos and you can click on their username to see their profile page. This page shows all the images that a user has uploaded, how many followers, how many users following, and how many likes. From this profile page, you can also choose to follow the user.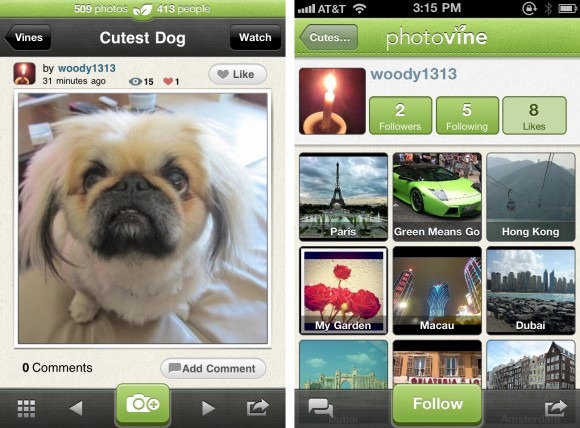 To invite friends to use Photovine, you have the option of finding friends via your Facebook and Twitter accounts or from your iPhone's address book. You can also send out invites via email and SMS. Surprisingly, there isn't any integration with Google+ or Gmail contacts and there isn't an Android version yet. The design of the app also doesn't reflect Google's usual style. This is perhaps because the app was developed by the Slide team, which was a social apps development start-up acquired by Google but operates somewhat independently.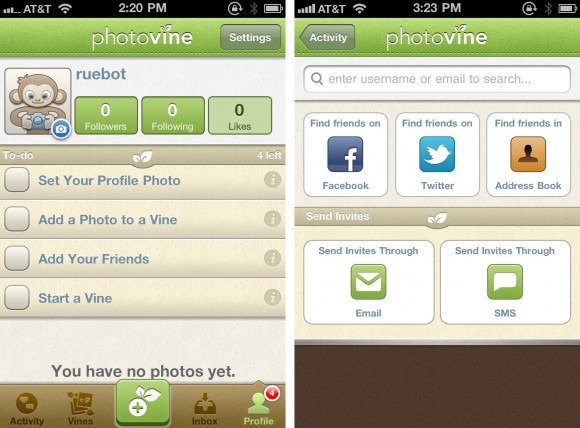 There have already been comparisons of Photovine to another photo-sharing app called Piictu, which also revolves around sharing photos to various themed albums. Some accused Google of blatantly copying, but the Piictu team responded that they were flattered while a Google spokesperson insisted that the app has been in the works since late last year, long before Piictu existed.
Unlike other popular photo-sharing apps such as Instagram, Photovine does not offer any fun filters. But whereas photos from those apps may be shared more randomly, Photovine provides a better structure through themes that may encourage users to share even more as they come across new vines or groups to which they can contribute.