Google's Nexus 7 stops orders due to demand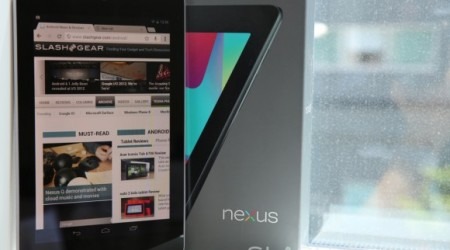 Google has decided to stop taking orders from its online store, assumedly because it has such a huge backlog it doesn't even know when it will be able to fulfill new customer purchases. The 16 GB $249 tablet had been showing up as being delayed for one to two weeks. As of now, though, it's impossible to place an order. The 8 GB model, at $199, is still available for orders.
It has also already sold out at major retailers, including Costco, Gamestop, Sam's Club, Office Depot, and Staples. The online versions of all the above stores list the 16 GB device as either "backordered," coming soon," "in-store only," or simply "out of stock." Your in-store chances aren't much better. Among retailers that allow consumers to check item inventory at local stores, you'll have a devil of a time finding any location in a major metropolitan area that lists the Nexus 7 as available.
Obviously, for Google and the Nexus 7, price was the number one concern. It let the market play out for a while before it stepped in and stamped its seal of approval on its own tablet. And during that time, it realized that if consumers want a 10-inch, fully-functional, graphically intensive tablet, they'll buy an iPad. But if they just want something to check their emails, play a mobile game every now and then, and maybe read an ebook on the go, they want something as cheap as possible. The Nexus 7 is now filling that need.
[via Mashable]