Google's Nexus 4 smartphone found in bar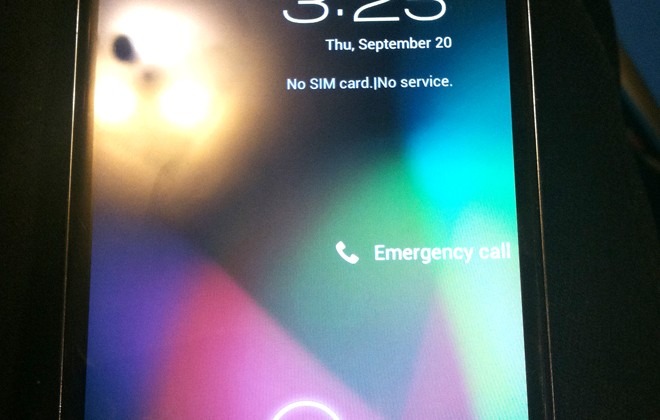 Jamin "Sudsy" Barton is a bartender at the San Francisco Mission District 500 Club. On a Tuesday night, while closing, he discovered a lost cell phone, one of many that are discovered throughout the week. After the phone went unclaimed, he gave it a bit more attention, and realized that it differed from other smartphones, bearing a "not for sale" sticker and Google logo on the back. He showed the smartphone to a bar regular named Dave, who identified it as the soon-to-be-announced Nexus 4. Dave agreed to contact Google, and that's when their problems started.
According to Wired, Barton heard back from a frazzled Dave the next day. "Dave sort of freaked out. 'Google lost a phone,' he told me. 'You just got a guy fired. The Google police are coming.'" According to Barton, "Google had him pretty worked up" over the issue, telling him he could be an accessory.
To get the phone back, Google sent out Brian Katz, a global investigations and intelligence manager. Katz insisted on a meeting at the 500 Club immediately. Barton refused and left work early, heading to a different bar. Katz ended up meeting one of Barton's coworkers, Don Hodge, who sent the Google "cop" on a wild goose chase, claiming that Barton was at the police station reporting the phone. According to Hodge, "[Katz] was little but really pushy, like military."
Katz then left the 500 Club to intercept Barton and ended up caught in a scuffle at the police station, where local residents were rioting due to a police shooting earlier in the day. A lawyer friend of Barton's, Ragi Dindial, then met Katz at the police station. Dindial retrieved the phone from Barton and passed it on to Katz, thus ending the saga of Google's lost Nexus 4. Wired paid Barton in exchange for several snapshots of the phone; it also has a brief video of the device on its website.
Google is to announce the Nexus 4 on October 29. The smartphone features a 4.7-inch display with a resolution of 1,280 x 768. Inside you'll find a quad-core Qualcomm Snapdragon S4 processor, and around back there's an 8-megapixel camera. The device runs Android 4.2.
[via Wired]