Google's Motorola Acquisition Explained With Lightsabers And Darth Steve Jobs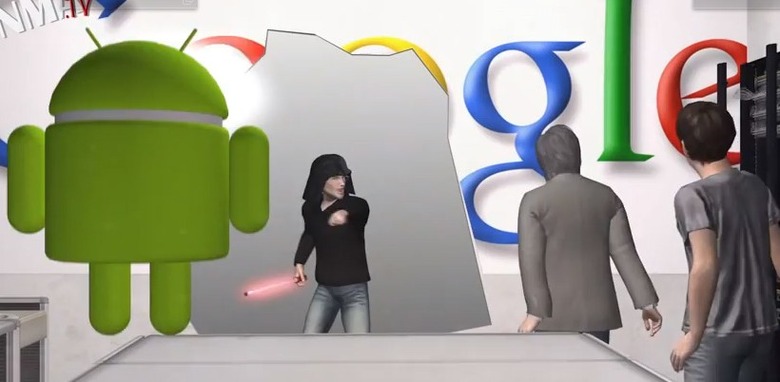 The Google acquisition of Motorola Mobility was big news yesterday with plenty of analysis and predictions on the bold defensive move. But to help you sift through all the chatter, Taiwan's Next Media Animation has worked their magic again to boil it all down into a one-minute action-packed animated video with a lightsaber-wielding Darth Steve Jobs.
The acquisition of Motorola Mobility will involve Google forking over $12.5 billion and agreeing to a $2.5 billion breakup fee should the deal fall through. Google is also paying 60% more per share than Motorola's stock value. All this appears and is marketed by Google as making a stand for the Android platform by securing Motorola's massive patent portfolio for leverage to defend against rivals. Motorola's IP chest contains around 17,000 patents along with another 7,500 pending.
Google has recently accused Microsoft and Apple of waging an unjust patent war against Android. Microsoft has been attacking Android device makers, having won what was deemed a windfall with HTC having to pay an estimated $5 to the software giant for every Android handset sold. Apple has been launching similar attacks on Samsung, Motorola, and HTC.
[via VentureBeat]