Google's Hangouts for Chrome updated with slick new design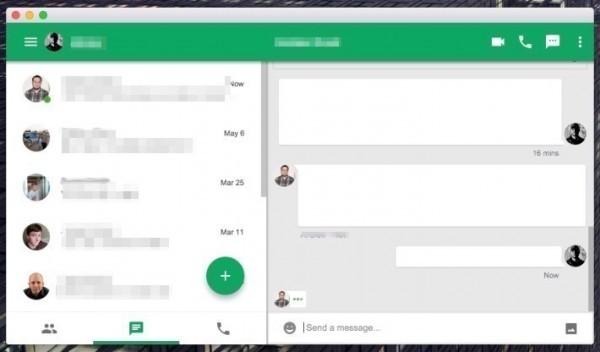 Good news if you use Google's messaging app Hangouts on your desktop! The company pushed out a new interface design for the Chrome app, featuring the now commonplace Material Design aesthetic that debuted with Android Lollipop. The app now better matches the mobile versions on Android and iOS, and is all-around more pleasing to the eye. The update is available for Chrome users on Mac, Windows, Linux, and Chrome OS, however those last three operating systems will require users to go to the settings menu and choose "Disable transparent UI."
Beyond the new paint job, Hangouts has a new layout as well. The app is now split into two columns, with the left side showing a list of recent contacts/conversations, and the right side displaying the currently selected conversation. Individual conversations can still be opened in separate windows.
While a fresh design update is nice, it would still be better if Google updated the app to include end-to-end encryption, like Apple does with iMessage. This lack of security was discovered earlier this month when an American Civil Liberties Union (ACLU) employee asked Google about how safe Hangouts was from wiretapping.
Prior to this discovery, Google was vague in detailing if and how users' chats were encrypted. The company's representative initially tried to dodge the ACLU's questions, but later confirmed that government wiretaps were possible, even if Hangouts users choose the "off the record" setting, which doesn't store a record of the chat in their history.
SOURCE Google