Google, Vizio to give non-smart TVs Chromecast powers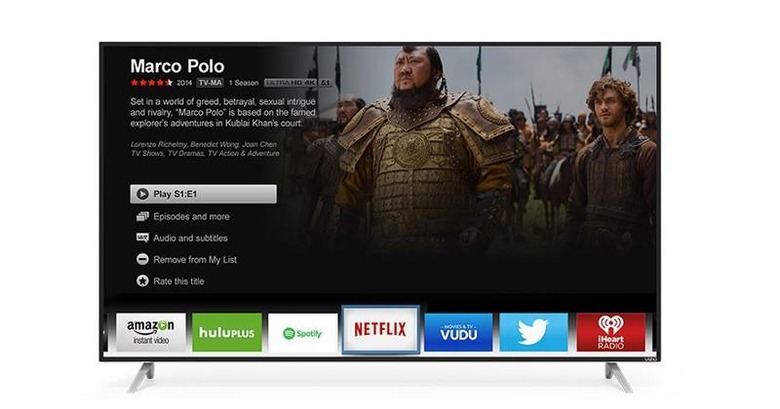 Despite the growing number of app-empowered smart TVs in the latest generation of living room entertainment electronics, not everyone might be keen on giving their TV that much brain power. There are, of course, ways to bridge the gap between the plain and the smart but those, including the wallet-friendly Chromecast, require additional purchases. It seems that Google wants to change the living room arrangement again and this time it's working with TV maker Vizio to produce regular, but perhaps 4K, TVs that only have one difference: they practically have Chromecast built in.
This development might be a strange one given that Google already has two TV-oriented products and technologies available. On the one hand, you have Chromecast, the popular HDMI dongle that you can attach to any HDMI display to "cast", a.k.a. stream, content from smartphone or tablet to screen. The number of Chromecast-compatible apps is still growing, however, but you can, at least, mirror your smartphone's whole screen when all else fails.
On the other end of the spectrum, you have the full-blown Android TV platform, the very same Android for smartphones except with a more couch-friendly user interface. Here, the focus is on running apps and viewing content directly from the TV's own hardware. However, Android TV does have Google Cast support, meaning they too can function like overblown Chromecasts.
A Chromecast non-smart TV would then be a compromise between the two, something that Google might have finally deemed necessary. Until now, any TV maker who wants to add casting functionality will be forced to use Android TV, which means more hardware costs for a TV, which ends up getting transfered to the buyer's bill. And not every consumer will be too keen on buying a Chromecast or Android TV set-top box for some of the more simple things they might want to do. Hence, a Chromecast TV might make sense.
Vizio's implementation will have a rather interesting feature, according to reports. Vizio will actually be shipping a tablet with the TV that acts both as an oversized remote control and as a casting source if needed. The tablet will be preloaded with Chromecast-compatible apps, perhaps like Netflix and Hulu, which removes the need for owners to have or use a smartphone.
This new partnership between Google and Vizio is also interesting in light of the stillborn Google TV that the two have once planned together. It might be Google's way of wooing the TV maker again before the latter fully commits to a competitor's, like Opera's, smart TV platform.
VIA: Variety