Google Updates iOS Search App With Instant Pages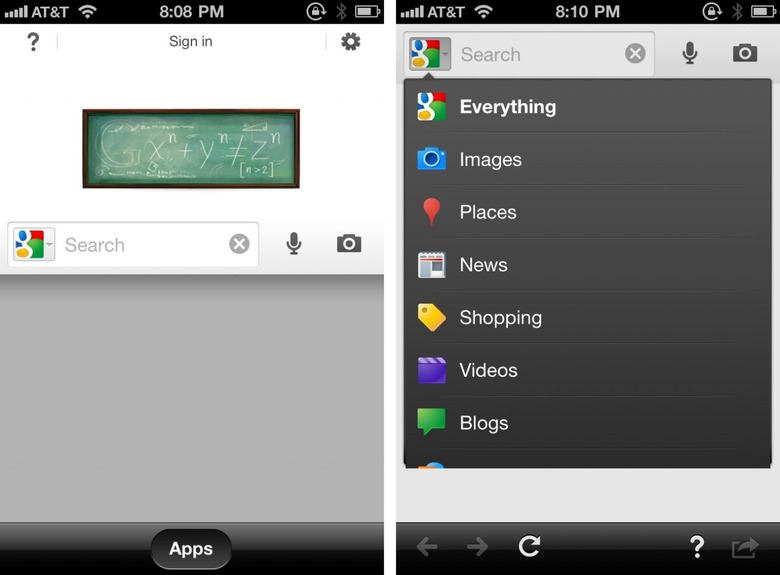 Google updated its Search app for iOS today with the addition of several new features that will make searching faster and more convenient. Most noticeable is the addition of a filter button in the search bar that makes it easy to quickly select which categories to search under. Also added is support for Google's Instant Pages feature, which was first introduced for the Chrome desktop browser back in June.
The Google Search app is much more powerful than its Safari browser counterpart. Besides typing in your search query, you can input your search using speech as well as using photos from your phone's camera. The latter utilizes the experimental Google Goggles feature and finds search results relevant to photos of books, DVDs, landmarks, logos, contact info, artwork, businesses, products, QR barcodes, and more.
The addition of the filter button lets you narrow down your search results by selecting categories from a drop-down menu. These categories include Everything, Images, Places, News, Shopping, Videos, Blogs, Discussions, and Apps. Speaking of Apps, this new update also makes it easier to launch Google apps such as Gmail, Calendar, News, Translate, Reader, and more.
Support for Instant Pages means that certain search results that Google predicts that you're most likely to click on will pre-load in the background so that when you do click on the result the page appears instantly. However, our attempts at trying out this feature by searching for "IRS" did not produce an instant page load of irs.gov. This could be blamed on our wireless data connection or that irs.gov was not predicted as the best result for that particular search. Hopefully, this feature will continue to be tweaked so we'll see a more noticeable difference in page load times.
The app also has a help overlay that highlights the individual features. And swiping down from the top of the screen reveals the sign-in and settings options, which usually remain hidden so that more screen space is given for search results.