Google Updates Hangouts To Full Phone And Broadcast Functionality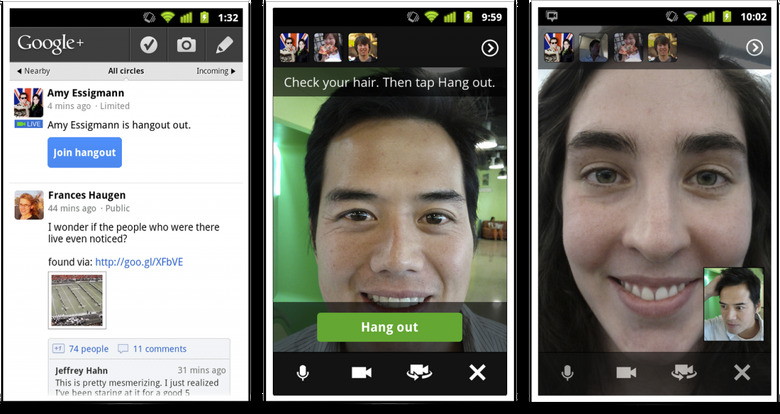 The folks at Google working on the social networking site Google+ aren't messing around with that whole "plus" thing, taking their Hangouts video chat portion to a level above and beyond basically every competing service in a bold swoosh of updates today. Want to video chat via G+ on your phone? You can do that today. Want to broadcast a video for the public? You can do that today. Want to share your screen, share a live-drawn sketchpad, work with Google Docs, or name a Hangout to handle your specific needs? All of that is live today. On top of all this, Google is handing out Hangout APIs today for developers to create new and interesting additional apps that work on the Hangouts video chat platform. Wins all around!
Hangouts on your smartphone
Immediately after launching Google+ and appearing very much to be pretty dern serious about this whole video chat thing, Google was asked by a whole network of new users when they'd be able to use Hangouts on their phone. That time is now, as it were, and all you've got to do to work with this new functionality is find (or start) a Hangout by hitting the "Join" button as it appears in your Google+ stream. Once there, you'll find a lovely new interface that simply includes the people you're hanging out with as icons along the top of your screen, your face in a small box in the lower right-hand corner, and whoever is speaking at the moment front and center. This phone-based Hangouts ability works on devices with a front-facing camera and Android 2.3 Gingerbread or higher.
Note here, before we go on, that you'll need the official Google+ app to work with these abilities on your smartphone. It's free on the Android Market.
Hangouts on Air
Starting today you'll be able to broadcast yourself as well as an entire Hangout on Google+ so that there can be spectators as well as people hanging out. The limit of 10 total people hanging out still stands, but an unlimited amount of people can watch you make cool fools of yourself in live video form. This functionality will be blown out into the atmosphere with a special event on September 21st in which the Black Eyed Peas' will.i.am will be hosting a broadcast himself. Fun!
Screensharing, Sketchpad, Google Docs, and Naming
One of the only reasons we can see that every single web-based business in the world hasn't adopted Hangouts for meetings across the earth is the fact that they've up until now not featured any screen-sharing abilities. Now one presenter can show the things that are going on on their own computer's display while others are able to watch. This should bump up meeting instances by about ten billion percent. Next to that is Sketchpad, a lovely in-Hangouts app that lets you and your friends draw together – this is also known as Exquisite Corpse, just fyi, a terrifying name for a really fun activity.
Then there's Google Docs, an in-web app that's been able to be worked on by multiple users for a while now, pulled into Hangouts here so that you can also chat while you're all working on a paper together. Named Hangouts is last, this being the most simple addition to the fold, you're ability to simply slap a name on the room you're creating for more interesting and a whole lot less random joiners in the future. Make a room called SlashGear, for goodness sake!
These four additions are still under construction, but can be tested by you by simply clicking the "Try Hangouts with extras" button in your Hangouts screen.
Hangouts APIs
APIs are codes that developers use to work on applications based on a certain platform. Here that platform is Hangouts, and the APIs for the app have been released today. If you'd like to develop new awesome apps for Hangouts, follow the instructions on the Google Platform Blog and please feel free to update us on any new apps you create!