Today, Google is announcing an update to Contacts. In the preview, you'll notice straight away that Google has rolled in a bit of the Material Design flavor, giving your Contacts page a fresh look and feel. Not only a facelift, Contacts also gives you some new features, most notably the ability to easily find and merge (or delete) duplicate contacts. Still in preview, the new Contacts feature is already much better that what you might be using now, and makes finding people much easier.

One of the more interesting aspects is that should your contacts use a Google profile, their info will sync automatically. When your long-lost cousin switches phone numbers and/or jobs, you won't have to track them down. Just dial or email!
Contacts also gets contextual for Gmail. Instead of wondering what you last talked about, their contacts card will populate the last few email chains for you. Google says the feature isn't quite ready for Google Apps customers, but will be soon enough.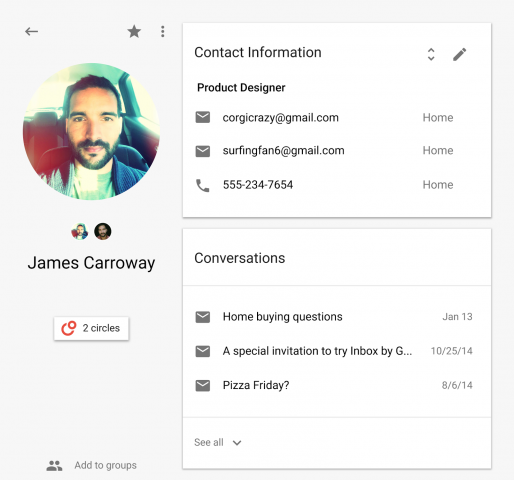 If you're anxious to give the new Google Contacts a shot, you can. Sort of. Contacts is in beta preview right now, but you can head to Google's Contacts preview page to check it out if you like.
Google also says the new Contacts will show up as a preview in Gmail over the next few weeks, so keep your eyes peeled.
Source: Google