Google TV headed to Korea via IPTV provider LG Uplus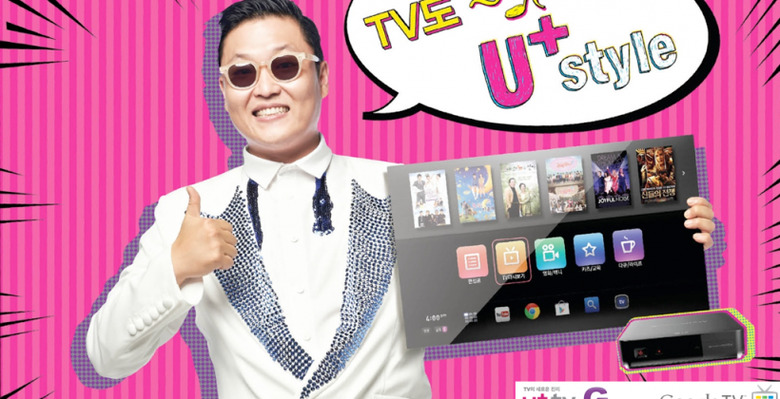 Google TV has been relatively slow moving compared to the company's other efforts, having arrived in the UK via some Sony devices. While integrated hardware devices have given Google TV a bit of market presence, it has received its first decent break in South Korea, where it will be offered by the Korean IPTV provider LG Uplus. In case it's not obvious from the image below, the marketing campaign involves Gangnam Style's Psy.
LG Uplus subscribers can get an integrated Google TV box with their subscription, which will provide access to 50,000 on-demand titles and live TV. This makes the tenth country in which Google TV is available, and the first time its been available as an integrated set-top system. This announcement comes shortly after Google TV was connected to the Google Play store, making it possible to buy movies and TV shows from a mobile device, such as a smartphone, and have it appear on Google TV.
Google TV typically works by connecting a buddy box between a TV and its corresponding cable or satellite box (or using an integrated TV), although LG Uplus users won't need a buddy box due to the system's integration into the set-top box. Once set up, users can control live TV via Google TV, as well as use search to find content. Google TV features a content organizer that aggregates content, and has both Chrome browser for browsing the Internet and YouTube for watching YouTube content on your TV. The integration with the Google Play store gives you access to apps on your TV.
Content offered by Google TV currently includes Flixster, Adult Swim, Cartoon Network, HBO Go, PBS Kids, TNT, and TBS, amongst many others. Netflix users can use Google TV to watch instant content, while music lovers can access over a dozen music services, including iHeartRadio and Pandora. Likewise, games can be downloaded via the Google Play store and played on your TV via Google TV.
[via Google TV Blog]