Google TV "Fishtank" Program Leaks Android 3.1 Smart TV Details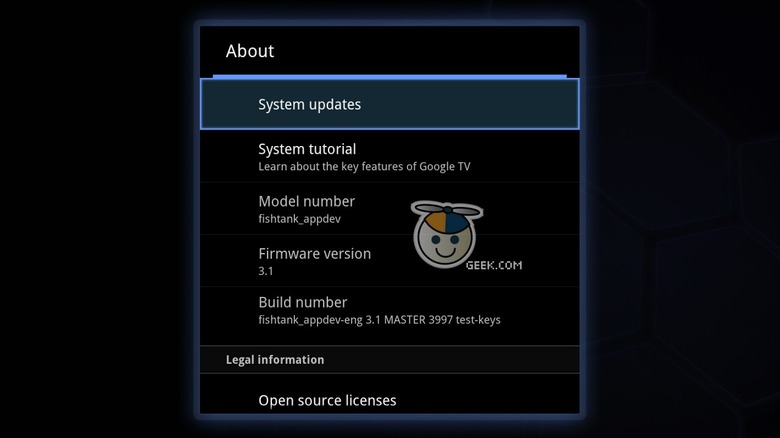 Google has been running a clandestine Google TV 2.0 "Fishtank" program since Google I/O in early May 2011, giving a small number of developers early access to beta versions of the next-gen smart TV platform. According to Geek's source, less than fifty developers have been included in the Fishtank, each receiving an Intel CE4100 reference design STB running a heavily modified version of Android 3.1 with Google TV specific adaptations.
The box itself uses the same SoC as in the first-generation of Google TV hardware, such as the Logitech Revue, though there are many more ports on the Intel reference design. It's unclear how many of them are accessible to Google TV 2.0 developers, however. Also in the box is Logitech's wireless keyboard for the Revue.
Software, meanwhile, includes a clock app and Live TV support, currently showing whatever source is piped in through the HDMI input. This latter functionality is already causing arguments between Google and developers, after the decision was made to lock out access to the live TV feed when it doesn't have focus (although it can still be seen playing through the translucent menus).
Unfortunately, that decision – and the absence of any APIs to work around it – means that many of the plans developers had, such as pulling internet-based information relevant to whatever show was currently being watched, have had to be scrapped. Ironically, it was those very app and service ideas that apparently earned many of the developers their place in the invite-only beta program.
Google tipped the Android 3.1 upgrade back at I/O. Future versions of Google TV are expected to be based on Android Ice Cream Sandwich, which is due to arrive later in 2011.
[via Android Community]