Google Travel launches with flight search service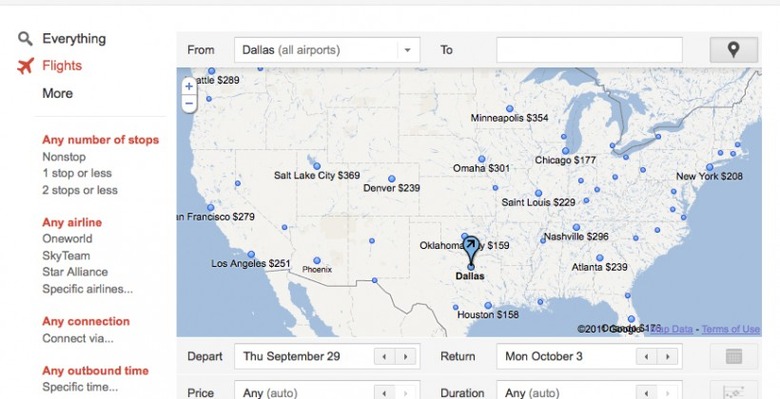 Google has quietly launched a new flight search service called Google Travel. The service can be found in a separate portal here and is powered by the recently acquired travel software company ITA. The $700 million acquisition of ITA was scrutinized for several months before being approved with various conditions due to antitrust concerns that may affect the online travel search industry.
The portal has a very simple and clean interface and instant search results updates. It has six basic parameters you can enter, a map, and then a list of results that appear after you've inputted your search. Immediately after you enter your place of departure and destination, a line is drawn on the map and a list of outbound flights are shown below the map.
Selecting an outbound flight, then immediately highlights that selection, eliminates other outbound options, and displays return flight options. Clicking on the 'X' next to the selection retracts it and brings you back to the entire list of outbound flights.
Just below the map are four parameters you can set, including the usual depart and return dates, price range, and duration. There are also two buttons that let you view the results in either a calendar format or a scatter graph. With the holiday season fast approaching and plenty of travel planning to do, you can give the Google Travel service a whirl here.