Google throws giant foam eclair on lawn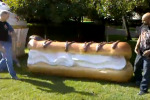 Anyone who follows Google knows that he company has an odd sense of humor. Look no further than the changing logos to celebrate different events and holidays often of appeal to bankers and state employees. It is hard to miss the fact that the Android developers at Google have a fetish with sweets when it comes to naming their new OS versions.
First we had Cupcake 1.5, then Donut 1.6, and Eclair 2.0 is set to hit soon (we think). Apparently, each time a new version of the Android OS is nearly ready for launch the geeks at Google celebrate by dropping a giant foam sweet on their lawn.
Some photos of the geeky lot delivering the massive foam eclair to sit alongside the foam cupcake and donut have surfaced. It looks like a thanksgiving day parade minus the pooping horses and bands on the Google lawn. The delivery of the eclair is somewhat in line with the rumors that the Motorola Sholes is set to hit this month running the eclair update.