Google selling HSPA+ Galaxy Nexus for $399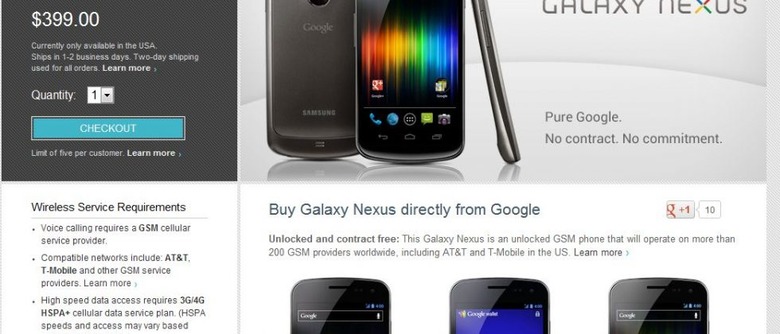 Well hello there, Mr. Galaxy Nexus! What are you doing over there on the Play Store? Shouldn't you be offered through carriers? It seems Google is going to try once again to sell unlocked handsets directly to the public. They've just unveiled the HSPA+ Galaxy Nexus on the Play Store for the very reasonable price of $399. Only those in the United States will be able to purchase the device, however.
It's an interesting move for Google, who previously tried to sell unlocked Nexus One phones to those on GSM networks for $529.99, which didn't go down too well. The model of unlocked devices has worked well enough in Europe, but never seems to have gained traction in the United States. We're positive a $399 HSPA+ Galaxy Nexus will make people think twice though.
Compared to the Verizon model, you lose LTE connectivity, and you've only got 16GB of space to play with, but it's also much cheaper than if you were to buy the LTE model off contract. It also has pentaband 3G support, which means you'll be able to use the device on T-Mobile without any trouble at all, and you'll be able to get speeds of up to 21Mbit/s using HSPA+.
Specs are otherwise the same: 4.65" 720p display, a 1.2Ghz dual-core processor, 1GB of RAM, five megapixel camera with 1080p recording and stock Ice Cream Sandwich. It's also ever so slightly thinner than the Verizon Galaxy Nexus, 8.9mm compared to 9.5mm. So what are you waiting for? Go buy one immediately.