Google Search now looks in your apps; Messenger hits Play Store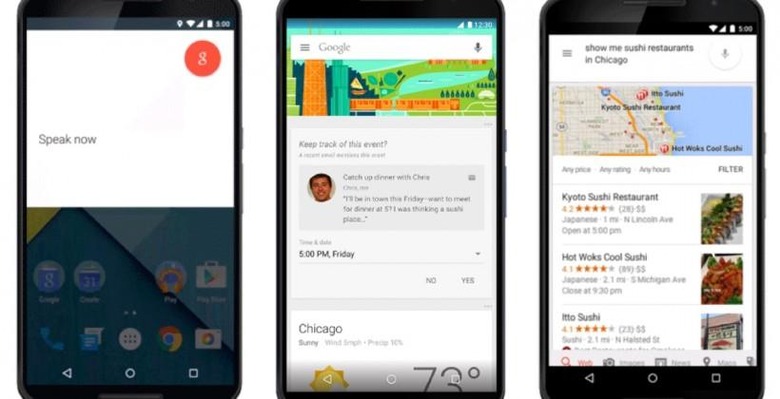 It's update Wednesday, and you know what that means, Android fans: more Google for your Android! On top of the Nexus 6 rollout Google is doing each Wednesday, we also get our hands on some new app features, and sometimes new apps altogether. Today, we're seeing both, as a really nice update to Google Search is rolling out, and Google's newest messaging app is also being introduced to the Play Store. For the majority of Android users, both will be available, too.
Messenger is something we noticed in early Lollipop images, and was quickly discovered as their latest attempt at SMS and MMS messaging. While Hangouts does as much, it's not an app that can be used on any device, and is data consumptive. Messenger is a new-look messaging app, nothing more.
What Messenger brings is Material Design, and a really good search service. You can search contacts, or within conversations, to find exactly what you're looking for. You can even send audio messages to other Messenger users, which you'll find plenty of; Messenger is available for all Android devices running 4.1 or better.
Search is getting a fresh coat of Material Design paint, but also some awesome new functionality. New card-based reminders will monitor your forgetful self, and ask if you wanted to meet up with friends or attend that meeting you didn't put into your Calendar.
Search will also let you find things within apps, now. Google says the functionality currently works with Tumblr, TripAdvisor, TuneIn, Trulia, and YouTube. You can say things like "Okay, Google, search YouTube for cat videos", all without having to leave the Google app!
Two more little tweaks are also cobbled into Search: you can ask it to flip a coin when you can't decide, and some devices will get a very Motorola-ish feature. If you've got a Nexus 6, Nexus 9, or — oddly enough — a Samsung Galaxy Note 4, you can can ask Google Search a question when the screen is off. Always listening, coming to a flagship near you.
Via: Twitter, Google Play
Source: Google