Google Search goes massive with banner ads and YouTube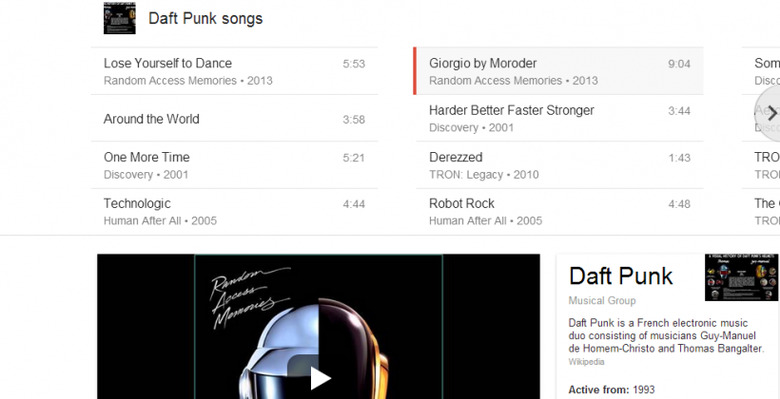 Branded queries such as "Southwest Airlines" have begun turning up Google results with large-scale banner ads while searches for artists have started a roll-out of specialized YouTube listings. This is all part of a multi-tiered Google Search modification that brings more cash to the search giant and allows brand integration to run in one case, with quicker results for the searcher's wants and needs in the other, done in part as part of the Hummingbird initiative.
The YouTube part of this equation brings up a new carousel of items from YouTube, songs the lot of them. If you do a search for "Daft Punk songs", as we have in the hero image of this article, you'll find a set of songs both new and old, each of them linked to the appropriate YouTube music video or still-video-with-music as you please. This push also connects to Google Now.
Pressing the "keep you updated" link in this music artist search brings on Google Now alerts for the artist in your Android smartphone. Google Now (through Google Search) was also updated recently for Android to show off Video Game results in a similar manner.
Google Search also adds a lovely set of gigantic banner advertisements to search results for certain unique brands. One example of this, as pointed out by Search Engine Land, is Southwest Airlines. When you search for this topic you may or may not see a banner with a plane from the airline's fleet alongside the web address for the brand.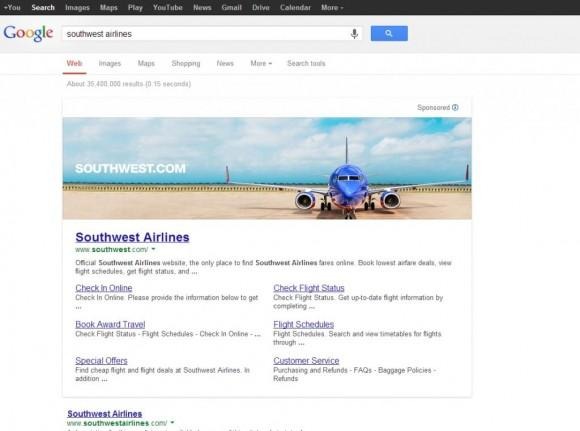 Southwest Airlines search result image VIA @SyncergyHQ
The full extent of this roll-out is not known, but again according to SEL, a Google spokesperson did verify that these banners are a "small experiment" being run in the U.S. market. It's also unclear whether this move is seen by Google as breaking the promise they made back in 2005 by then-Google-employee Marissa Mayer, VP of Search Products & User Experience (since moved to Yahoo as President and CEO.)
"There will be no banner ads on the Google homepage or web search results pages. There will not be crazy, flashy, graphical doodads flying and popping up all over the Google site. Ever." – Marissa Mayer for Google, December 22nd, 2005
This quote was made in response to chatter that Google would be changing the way they do business after an announcement that AOL would be teaming with AOL with an investment of $1 billion.
VIA: Gina Trapani