Google Search app scores tip calculator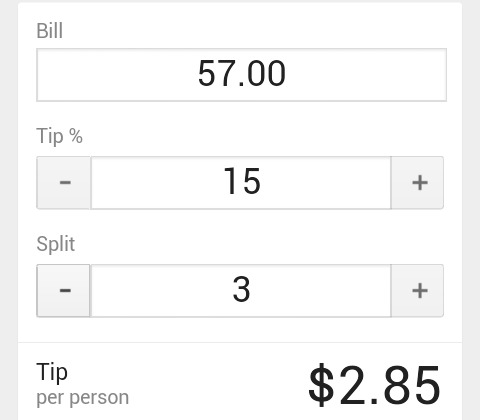 Calculating out a tip can be achieved using an app or by breaking out your handset's calculator, but neither is quite as simple as asking your phone how much the tip on your bill should be and having the answer appear. Such is perhaps the inspiration behind the latest Google Search app update, which adds an automatic tip calculator into the mix.
The calculator works by pulling up the Google Search app and either typing or saying, "What's the tip for $xx?" Replacing "xx" with the dollar amount of your bill. The tip calculator will be pulled up with some default settings under tip percentage and the number of individuals on the bill. Both those settings can be changed to reflect local and personal details.
The totals will be displayed in two varieties: the tip amount per person and the bill amount per person. The update has been rolling out today, and though some were reporting that they hadn't received the functionality earlier today, it would seem most users have access to it by now. Regardless, if the command doesn't work for you, be patient — you should see it very soon.
This follows the Google Search for Android update that rolled out on September 28, bringing with it the "OK Google" hotword to the app. Those who have the latest update will need to activate the hotword by heading into Settings > Voice > Language > Offline Speech Recognition. The language pack update will need to be updated from this menu, followed by an app restart.
SOURCE: Google+