Google, Samsung bitterness resurfaces on wearables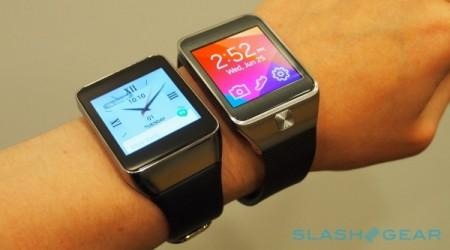 Google and Samsung have an interesting history. Often working together, the two eventually end up splitting apart at the seams. Be it Nexus devices or Chromebooks, there has almost always been a very Google-centric Samsung device floating around. The latest Samsung-for-Google device, the Gear Live, may have drawn a line in the sand.
Google is serious about wearables, and so is Samsung. Both companies likely feel the platform is the new tech gold rush, ripe for pillaging money from our pockets in a ho-hum smartphone market. According to The Information, Google CEO Larry Page recently met with Samsung Vice Chairman Jay Y. Lee to discuss Samsung's aim with wearables. It didn't go well.
The meeting was said to be "tense", with Page questioning why Samsung is dedicating time to Tizen rather than Android Wear. He may have been reacting to Samsung's recent move to strip Android from the Galaxy Gear and migrate it to Tizen. Page could hav also been bothered by the various reports of shoddy Gear Live hardware — an issue that doesn't plague Samsung's Tizen devices.
Lee is said to have informed Page that Tizen is — and will remain — a focus for Samsung moving forward, and that the company intends to trudge on with their own platform. Page also took issue with Samsung's copying of various Google apps and services, according to the report.
Android and Chrome boss Sundar Pichai has been very complimentary of the relationship between the two companies lately, saying they've never enjoyed a closer working relationship. Google and Samsung also have a handshake deal in place to share patents, which many believed meant Google had swayed Samsung to play nice and follow their lead.
If this report is true — and let's remember The Information's information is not always accurate — a new platform is renewing old tensions, and that's not a positive direction. Google has taken a bit more control of Android of late, and Android Wear has always remained tucked tightly under their wing. It likely doesn't signal the end of an era, but tensions could end up forcing Samsung's hand one way or another.
Source: The Information