Google Responds to Microsoft's Gotcha Moment in Patent War Situation [UPDATE: Microsoft Responds Again]

Just yesterday there was a rather interesting announcement made by mister David Drummond, Senior Vice President and Chief Legal Officer for Google which noted how Microsoft and Apple had joined forces to purchase patents then used to stop the progress of Android via amounts of cash required to be payed per Android-toting device manufactured. This original announcement was responded to by Microsoft who then noted that they'd offered to have Google join in on their bids for the patent collection they're now using, now Google has responded back. Sort of like a high school message board, wouldn't you say?
Drummond's response to the email which Microsoft presented showing irrefutable evidence that Google was indeed invited to join in on the bid for the collection of patents now in question was made a short while ago today. Drummond notes that Google does not find it surprising that Microsoft would want to "divert attention" away from the subject at hand with "a false gotcha!" while continuing to "fail to address the substance of the issue" the group had raised.
What Drummond means and says furthermore is that anyone other than the public domain / open-source community owning said Novell patents would take away any group's ability to defend themselves against attacks by those who WOULD own said patents. Drummond maintains that it is Microsoft and the rest of Google's competitors who are aiming to use what they've purchased in a "patent war" which would stifle production of devices and stop innovation rather than allowing these patents to stay open and free so that it is features and devices that make a company prosper.
Drummond notes that a joint acquisition of the Nortel patents was an ingenious strategy made by Microsoft and the rest of Google's partners so that Google would pay for the right to keep and assert these patents to defend Android against those who would, again, use said patents to wage war on those manufacturers without the cash to get in on the deal.
What's ultimately happened though already is the there U.S. Department of Justice has intervened (this was before this whole new back and forth started) and forced Microsoft to sell the patents it bought and demanded that the winning group (Microsoft, Apple, Oracle, EMC), give a license to the open-source community. The Department of Justic again said that this set of changes was "necessary to protect competition and innovation in the open source software community." You can read all about that case here.
We'll continue to cover this massively important cat fight as it plays out into the future.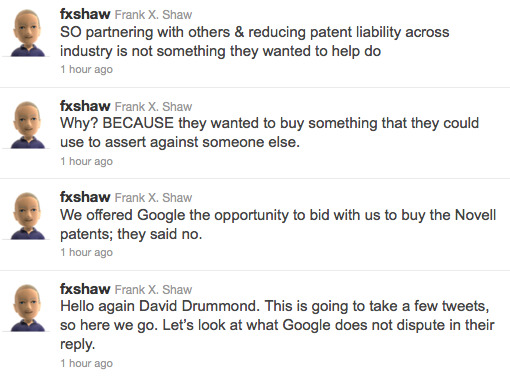 UPDATE: Frank Shaw, aka who we've been referring to as Microsoft on Twitter thus far, has replied again in several Tweets, underwriting the importance of the situation of course. In his series of Tweets, saying that instead of what Drummond says, Google wanted the patents all for themselves so that they could sue others instead. What a silly fight this is turning out to be, yes?