Google releases Photo Sphere Camera app for iOS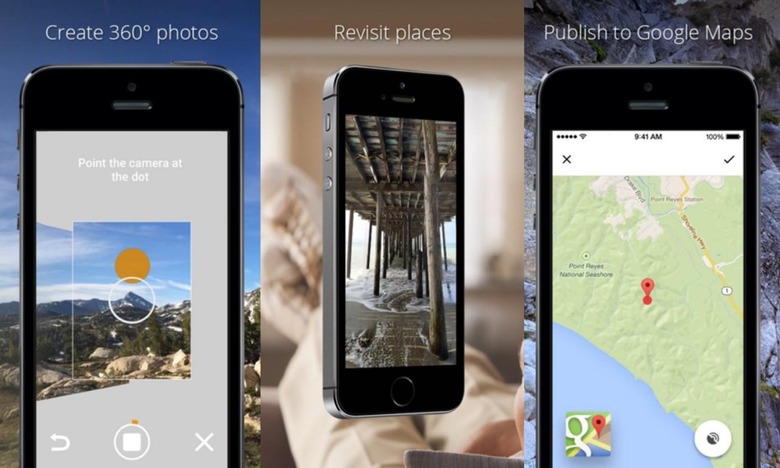 Google has released a new iOS app that is sure to leave mobile photographers happy. One of the things Android had over iOS was photo spheres, a process in which you could capture a 360-degree view of your surroundings. Google's "new" Photo Sphere Camera" app for iPhone solves that straight from the source, though.
Android pioneered the photo sphere revolution, and it's now available on iOS. The app has the proprietary aim of providing photo spheres for iOS — it's not the Google camera app you'd find on Android. You can take 360-degree pics, and they'll save right to your Camera Roll.
This also seems to be another measure for Google to crowdsource photo spheres from users. After you snap a photosphere, Google takes you straight into a sharing screen, where you can add your creations right to Google Maps. It's a great feature if the conditions are just right, but they're often not.
Photo Sphere Camera for iOS seems to have the same "stitching" issue as Android. That "stitching" is how pics you take are molded into a 360-degree view. As you pan around, a small dot pops up for you to aim a circle around. The iOS app has a similar issue to Android in that it tries to capture the pic too quickly, not letting you center the shot all the time.
With a little practice, and following the guidelines you see when you first start the app up, you can create some cool photo spheres, though. Unfortunately, the iOS app lacks the "create tiny planet" feature from Android, letting you invert your selection to create a really neat reverse effect. Still, it's a bit of fun if you want to take and share photo spheres on iOS.
Source: iTunes
Via: TechCrunch