Google Play Store People: seeing friends buy things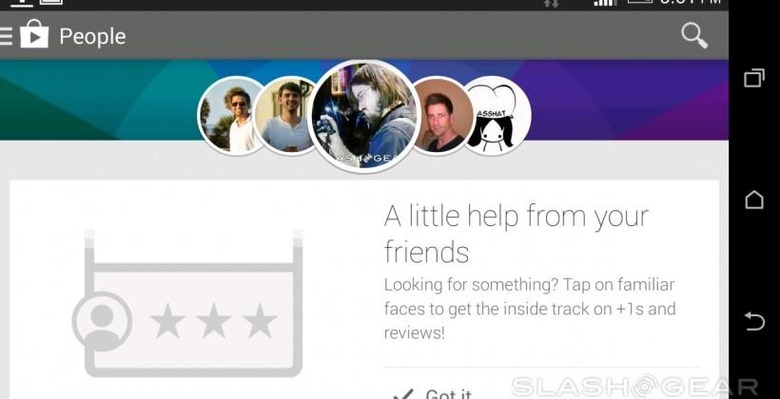 Starting this week you'll begin to be able to see a new section in the mobile (and eventually the desktop) version of the Google Play store. This is People, and it's going to show you what your friends like to download or otherwise buy.
At the moment it's not entirely clear how you'll be able to clear your own preferences, as it were. We must assume that if you do not have a Google+ account, you won't be seen in the People portion of Google Play, but we've not found a solid answer as yet.
For now, know that it appears that this section will only show items that've been shared by friends in your network. This means that if they've +1'd an app or left a review on a movie, you'll be able to see it. You'll also be able to see numbers of "stars" left in reviews as well as comments.
This is Google's latest effort to bolster sales in the Google Play media store at the same time as they promote Google+, their social network. Let us know if you see anything especially friendly or anything you're particularly wary about in this release if you do so please!
NOTE: If it wasn't already abundantly clear, this update is coming to Android devices. Google Play is an Android-based Google creation, and that's where you'll find it. Once you open Google Play, hit the Play Store (gray) button at the top of the app, and "People" should be in the list. If it's not, quit the app and try again.
VIA: Phandroid