Google Play Store now supports pre-registration for upcoming apps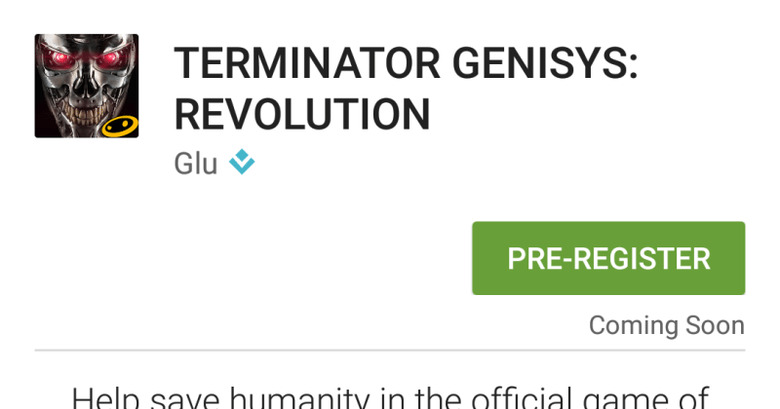 If you've ever been in that situation where you failed to keep track of when an interesting app or game finally landed on Google Play Store, then you'll know how important this new feature is, both for users and developers. Now developers will be able to mark soon to be launched apps as "Coming Soon" and interested users can opt to be informed when that day arrives by pre-registering for the app. This enables both to squeeze out maximum engagement, and maybe even money, for the app.
In normal cases, users would either hope that their game or app will be big enough to make a huge splash over on news sites or deem it important enough to put in their calendar. But who really keeps a calendar of app launch dates these days? With this pre-register option, users need only tap on a single button to be informed of that day. It's not a pre-order arrangement so you don't have to worry about suddenly being billed for the app or game.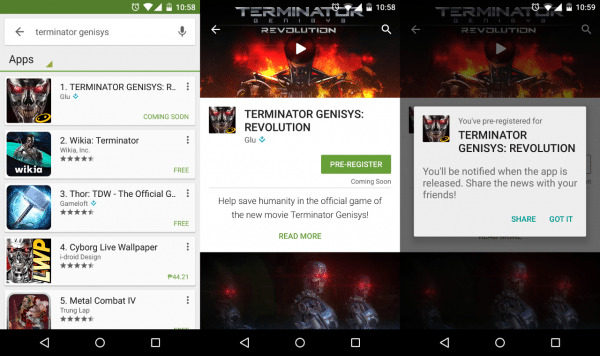 This is just the latest, and one of the quietest, changes that Google seems to have ready to improve the Play Store experience. There has been rumors that the Android maker plans to make A/B Testing available to developers in order to get them to improve their apps. This will allow them to put up varying versions of the apps on Play Store, differing only in cosmetics. A sort of on the fly case study to see where users will gravitate too.
Perhaps a more substantial change rumored to be in the works is more fine-grained privacy controls, similar to ye ol' App Ops feature unearthed since Android Jelly Bean. This would put Android on par, or even above, the oft praised privacy options on iOS.
But both these changes are still rumored to come, which may or may not happen in Google I/O 2015 later this month. This pre-register feature, on the other hand, is already here, waiting for you to subscribe to Terminator Genisys: Revolution as the first, and so far only, app taking advantage of this feature.
VIA: Android Central