Google Play Store 4 leak shows alleged new design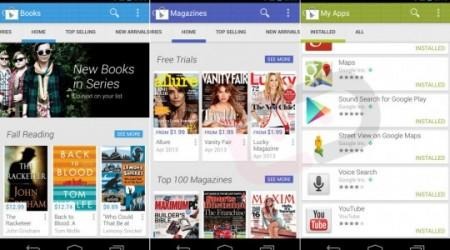 Screenshots have surfaced of what is said to be the next iteration of the Google Play Store, which first appeared over at Droid-Life. The current version Android users are running is 3.10.14 at most, but the version demonstrated in the image after the jump is said to be of 4.0.16. While its not official, there are a few indicators that it could be the real thing.
The leak received by Droid Life isn't a full functioning service, and from what is seen it is not ready for consumers. These things indicate that it could be real, although a Play Store leak isn't exactly common, making it hard to decide what to think of the matter. If it is real, however, the prospect is exciting, as the user interface shows a complete overhaul.
Colors, fonts – everything is different, offering simplicity and a clean design. Headers are larger, icons are larger, the content is front-and-center, and as Android Community notes, the apps are presented in a manner similar to Google Now cards in the "My Apps" section. Both artwork and magazine covers are larger as well, making them both easier to see and more visually appealing.
Still, there's no point in getting too excited about the leak yet, since there stands a chance this isn't the real deal. If it is, Android users are in for a big change, however, and you can check out what some of those changes are over at Droid Life, where they give a run-down of alleged version 4. What do you think? Let us know in the comments!
[via Android Community]