Not one, but two mobile gaming subscription packages have launched this month. Google Play Pass for Android and Apple Arcade for iOS have joined the subscription model, in the same vein of Netflix and PlayStation Plus. Each of these services grant you access to hundreds of titles and perks for a monthly fee – both at $4.99.
To a sceptic, these payment models are a convenient and lazy way for businesses to create a steady stream of cash monthly from customers. But this could still work for certain groups of people, specifically die-hard mobile gamers, groups of friends and families.
Overview
This isn't a comparison piece – which one you choose is probably simply down to what phone you have – but here is an overview of what each offer.
Apple Arcade grants you access to a library of 100-plus games that are compatible with iOS, iPadOS, Apple TV, and even MacOS Catalina. Some of these titles are already available for purchase on the App Store, but many of these games are Arcade exclusives. The bundle offers sharing to five family members accounts. And each member can log in to 10 devices. Arcade also comes with a one-month trial.
On the gaming side, Google Play Pass trumps Arcade with a list of over 300 titles. All of these games are available on the Play Store to purchase individually. While Apple Arcade is all about games, Play Pass tosses in utility apps, including FaceTune and Accuweather.
But like Apple, Play Pass can be shared with up to five family members, with 10 devices each as well. Compatible hardware includes any device with Play Store, so phones, tablets and laptops are all in the list. Both services can also be cancelled at any time.
What games are available?
Before you put your money in, you'll want to make sure you're interested in the games available on either platform. These subscriptions don't open the entirety of the App Store or Play Store for you to freely devour through games – you're limited to a few hundred titles.
Apple Arcade's list of games is truly exciting. It may be a smaller roster, but it's packed with eye-catching games with unique art designs and play styles.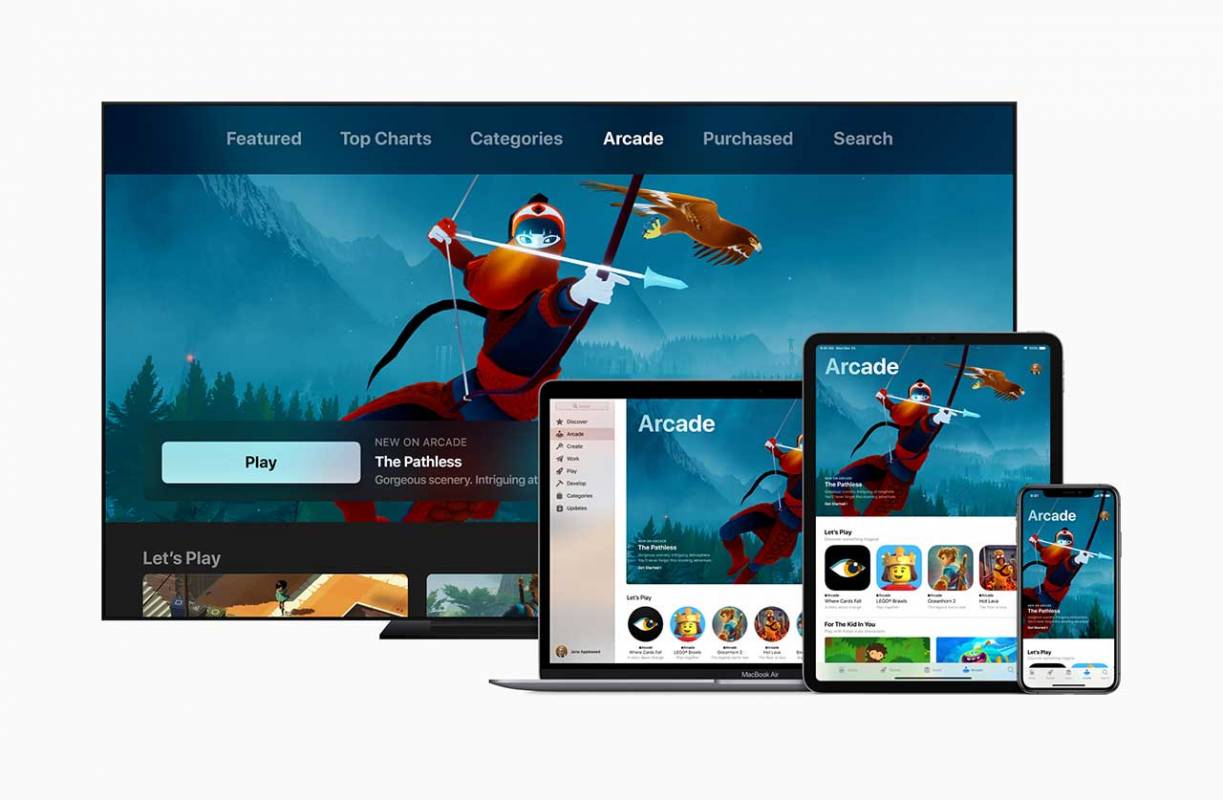 Apple's worked closely with developers to bring them exclusively on board to Arcade – you won't find many of these games anywhere else. Big titles like LEGO Brawls, a fighter in the vein of Smash Bros; Sonic Racing; OceanHorn 2, which has been compared to the Legend of Zelda; and story-driven experiences like Hitchhiker all star on this enticing list of games. Arcade also casts a spotlight on indie developers with games that look like they've been crafted with a lot of care and attention.
iOS users have free one-month trial and it's a good opportunity to take a sneak peak at Arcade's list of games.
Play Pass offers a selection of 300 titles with your subscription. Google's roster includes beloved classics like Monument Valley, Limbo, Star Wars: Knights of the Old Republic and Terraria. On top of games are utilities like calculator, file manager and other productivity apps.
Admittedly, Google's bundle contains a multitude of obscure, smaller titles that would otherwise have been ignored on a typical app store list. Besides the flagship titles, there are probably very few titles here that would warrant a long-term subscription.
But expect to see more apps coming and going on Play Pass. Unlike Arcade, Google isn't making titles on its platform exclusive, making it easier for developers to commit.
How much do you currently spend on gaming?
There's a catch with subscription services. Unless you cancel your subscription, a steady stream of $5 bills will be flowing out of your wallets every month. Weigh what it's worth – do you play $5 worth of games every month?
Titles like Monument Valley 2 are worth $4.99 – the price of Play Pass, which includes the game. So, if you're in the market for one of these titles, getting a subscription with Play Pass makes sense, granting you access to your game as well as others to explore.
But how much Play Pass is worth after a few months will greatly depend on its ability to bring in fresh material. All of its titles are available for purchase individually; If its titles don't constantly draw you in, it could be more economical to simply buy games separately.
Arcade offers a unique experience that's entices exploration. With its long list of never-seen-before titles from developers well-known and indie, it will probably keep you hooked for a long time. And its titles being exclusive to Arcade will probably make it harder to leave – so know what you're getting into.
Subscriptions make sense for families
But if you have a group of friends who are all keen on playing, or kids at home, both these subscriptions make a lot of sense. Both Arcade and Play Pass can be shared with up to five family users, making it flexible for each user – and a lot more affordable in the long run.
For families, these subscription plans give the kids a massive list of games at a relatively low cost. You're also able to play on multiple devices, from laptops to TVs, offering more options to play solo or together.