Google Play Movies gets 4K HDR streaming option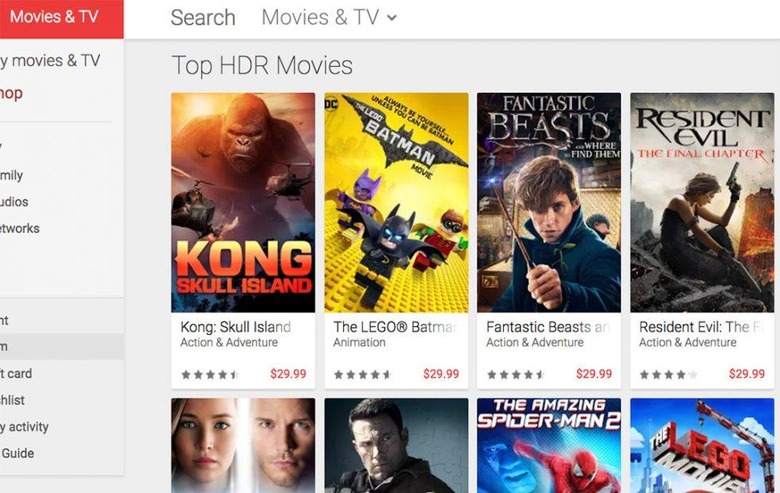 Google has some good news for the 4K TV owners out there: Google Play Movies now offers up 4K HDR videos, though not all movies are available with both. Of course, you could also take advantage of this streaming option if you have a high-end handset with a suitable display, such as the new Galaxy S8*. It isn't clear how many movies are available in 4K HDR, but finding the shows is easy using search. *UPDATE: It would seem that HDR support will not be working on smartphones at this time, and is instead only working with the Chromecast Ultra.
Ultra HD and HDR are both becoming more common on devices, and we've seen support for both roll out amongst various services. Amazon offers up some HDR content, for example, as does Netflix; 4K content is also becoming easier to find through streaming sites. The addition of 4K HDR to Google Play Movies marks a great new way to find these particular bits of content, giving consumers access to new releases in the best quality.
The content can be streamed on a tablet or smartphone, or via any Android TV device or the Chromecast. The 'catch,' obviously, is that your streaming device will also need to support the type of video. The cheaper Chromecast model, for example, won't work — you'll need to pay more for the Chromecast Ultra model.
Regardless of how you stream it, the content is available now. You can find the HDR options specifically by hitting up this link. You can check whether any particular movie is available in 4K HDR by scrolling to the bottom of its listing to the section called 'Additional Information.' Current titles available include "Kong: Skull Island," "The LEGO Batman Movie," "Fantastic Beasts and Where to Find Them," "The Amazing Spider-man 2," and more.