Google Play Games app gets record and share feature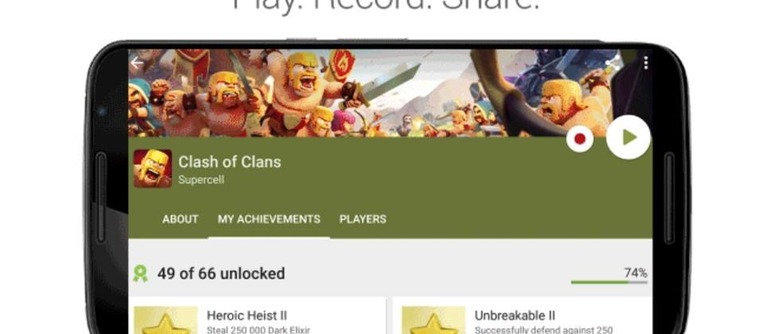 Recording games and sharing the footage is easy if you're on one of the newer consoles, but not so much if you're getting your gaming fix using your Android tablet or smartphone. Enter Google's newest announcement: the Google Play Games app has been updated with a record and share feature, allowing players to capture videos of their big wins and then share it with friends, family, and enthusiastic strangers.
Google made the announcement on Wednesday, saying that on YouTube, and accounting for live streams as well as gaming videos, more the 144 billion minutes of game footage is watched every month. Sometimes the videos are simply to show off; other times, it is give other players walkthroughs or tips on hard-to-beat levels.
Regardless, those playing on Android can now record and share footage from their mobile gadget. This is done within the Play Games app, where users will see a red circular record button on the game's main page. Click that button, start playing, and then make any edits you want and share it on YouTube.
The app can record footage in 480p and 720p resolutions, and can also record the gamer as he or she plays via the device's front-facing camera. Commentary can also be added using the device's microphone if desired (though both those things are optional). The new record and share features are rolling out now to users in the US and UK, and in due time will also be available in other unspecified countries.
SOURCE: Android Official Blogspot