Google Play celebrates 5 years with top 5 lists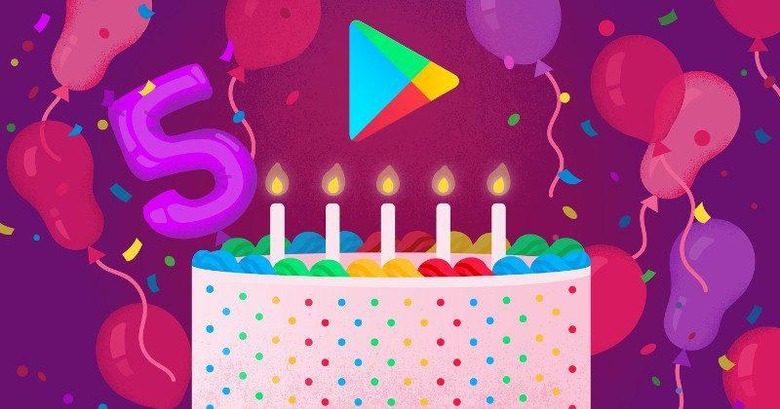 Google Play is now 5 years old. No, that doesn't mean that Android is that old as well. Google Play, specifically Google Play Store, just replaced the Android Market back in March 2012 to become a one stop shop not just for apps but for all sorts of digital content. That includes music, books, movies, and TV shows. And it isn't just for phones and tablets either, as Google Play also distributes content for Chromebooks as well as Daydream VR. To celebrate its birthday, Google takes a look back at its stats and reveals the 5 most popular apps and digital content that has graced its shelves for the past five years.
Apps and games are the lifeblood of the Google Play marketplace. After all, they are by far the oldest residents. So it isn't surprising that Google first turns its eyes on these two. What is surprising is how Candy Crush Saga is at the top of the list. Remember, this is based on accumulated stats gathered over five years, revealing how strong that title really is. Even Clash of Clans, which is a more recent challenger, is stuck at fifth place.
Released in 2014, Ed Sheeran's "Thinking Out Loud" is rated the top selling song, beating the likes of Taylor Swift's "Blank Space" and Pharrell Williams' "Happy". When it comes to whole albums, it isn't surprising that Adele's award-winning album "25" is at the top. If "21", which included "Rolling in the Deep" and "Someone Like You" was just released a year later, it probably would have topped that.
As for movies, you'd think that "Frozen" would be #1, but, as far a Google Play Movies is concerned, "The Interview" is the top-selling film in the last five years. Just as perplexing is "Deadpool" beating "Star Wars: The Force Awakens". And should we be even shocked that "Fifty Shades of Grey" is the best-selling book? Check the full list below for Google's unique brand of Top 5 stuff.
TOP INSTALLED GAMES
1. Candy Crush Saga
2. Subway Surfers
3. Temple Run 2
4. Despicable Me
5. Clash of Clans
TOP INSTALLED APPS (excludes pre-installed apps)
1. Facebook
2. Facebook Messenger
3. Pandora Radio
4. Instagram
5. Snapchat
TOP SELLING SONGS
1. Ed Sheeran – Thinking Out Loud
2. Lorde – Royals
3. Taylor Swift – Blank Space
4. Mark Ronson feat. Bruno Mars – Uptown Funk
5. Pharrell Williams – Happy
TOP SELLING ALBUMS
1. Adele – 25
2. Eminem – The Marshall Mathers LP2 (Deluxe)
3. Taylor Swift – 1989
4. Drake – If You're Reading This It's Too Late
5. Kendrick Lamar – To Pimp A Butterfly
TOP SELLING MOVIES
1. The Interview
2. Frozen
3. Deadpool
4. Star Wars: The Force Awakens
5. Guardians of the Galaxy
TOP SELLING BOOKS
1. Fifty Shades of Grey, by E L James
2. The Hunger Games trilogy, by Suzanne Collins
3. A Game of Thrones, by George RR Martin
4. The Fault in Our Stars, by John Green
5. Gone Girl, by Gillian Flynn
SOURCE: Google