Google Play carrier billing comes to Verizon Wireless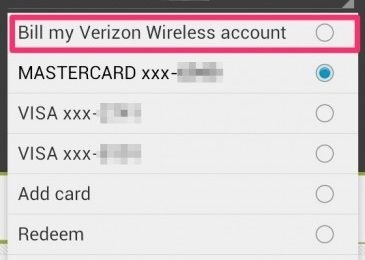 Android users on AT&T and T-Mobile have been able to purchase apps from Google Play and have them billed to their mobile account for a while. Customers on Verizon Wireless didn't have that capability, they instead have to use a credit card to pay for apps. We mentioned a few weeks ago that carrier billing was coming to Verizon Wireless for Google Play purchases.
That carrier billing for Verizon went live yesterday. This means that you can now purchase your favorite apps, music, and other content and have the purchase price added to your wireless bill each month. There are no hurdles to jump through on the user end in to set up carrier billing, you simply have to choose that payment method when you purchase an app or other content.
There are a few caveats to the carrier billing with Verizon Wireless. A billing cycle limit of $25 is reportedly being enforced. That means that each month you can't charge any more than $25 worth of digital content to your mobile phone bill.
That's good in some ways because if you lose your phone, whoever finds it can't charge huge amounts of money to your mobile account. If you're afraid a child with an Android phone on your account might take advantage of carrier billing to make unauthorized purchases, you can block web purchases for your account using the Verizon Wireless website.
[via Droid-Life]