Google Nexus Q brings media streaming to the home for $299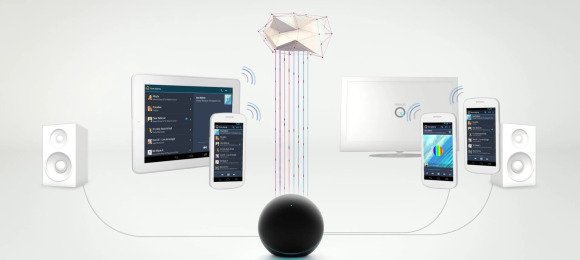 Didn't think Google was just going to announce a tablet at I/O, did you? The company will also be showing off a mysterious Nexus Q device. Google say it's a social streamer that'll hook up to your speakers and television and pipe content from the cloud, sporting a very cool design to boot. Droid-Life first discovered the reference to the Nexus Q on the Play Store, and now all the details along with an introduction video has emerged.
The Nexus Q streams music, video, and YouTube from Google's various content services. In addition, it allows users to create their own social playlists to send to the streamer and to share amongst friends. Not only that, but the device serves as a 25-watt amplifier, so you can plug in your own speakers and get some improved audio from the black orb.
The device is running Ice Cream Sandwich, and comes with 1GB of RAM and 16GB of storage. WiFI b/g/n, Bluetooth, and NFC are all onboard, and it can be controlled via a capactive touch sensor found on the front. You'll need an Android phone or tablet connected to the same WiFI network as the Nexus Q to control everything, and it'll set you back $299. The Play Store indicates that it'll start shipping in two to three weeks.
[via The Verge]