Google Nexus One hands-on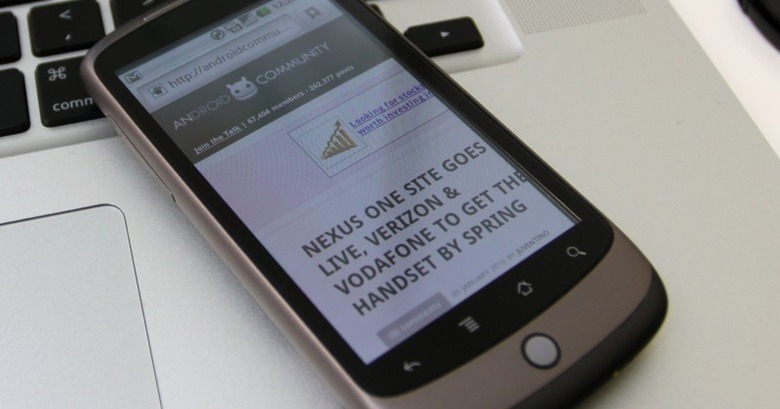 After all the leaks, speculation and premature sightings, the Google Nexus One feels pretty familiar by now.  Still, going by the amount of interest in the Android 2.1 smartphone there's obviously a fair few people out there who want Google's "official device", freshly announced this morning in Mountain View.  Read on for our first impressions with the Nexus One hardware and software.
The physical hardware is impressively slim, at 11.5mm, though fitting in the 3.7-inch AMOLED display does mean it's a reasonably long, broad handset (119mm and 59.8mm respectively).  Still, the plastics feel of reasonable quality and the glass-fronted capacitive touchscreen seems pleasantly responsive; underneath the display, the row of four capacitive buttons – back, menu, home and search – and the trackball are quite low, and a little tricky to control with your thumb while simultaneously holding the Nexus One.
We're not 100-percent convinced by Google's choice of color scheme, and while the two-tone grey and silver are inoffensive we wish some of HTC's more distinctive aesthetics had found their way into the industrial design.  Like other recent HTC devices the Nexus One has a micro-USB port for charging and synchronizing, and a 3.5mm headphones jack, along with several contact points along the bottom edge, but there's no dedicated camera shortcut.
The 1GHz Qualcomm Snapdragon processor is, as on the HTC HD2, fast and slick, helping minimize the usual Android lag-points such as opening up the applications menu.  We expected more from the reworked OS 2.1, however; we'll have to pit the Nexus One against the Motorola DROID to see quite how things have changed from OS 2.0.1, but right now the most obvious points are the new app menu (which overlays the icons over the homescreen, rather than pulling up an app-drawer), webOS-style thumbnail cards for switching between apps, and what feels like more responsive camera software.  On-screen, photo quality looks decent, but we'll be zooming in on our laptop to see whether HTC's 5-megapixel optics and Android 2.1's new software has taken a significant leap or not.
Despite the HTC connection, there's none of that company's clever Android modification: this is stock Android 2.1.  Google have increased the number of homescreen panes from three to five (still short of HTC Sense's seven) but HTC's clever on-screen keyboard with its reasonably accurate auto-prediction and correction is absent.  The lack of multitouch may prove frustrating too; we've found ourselves making a few mistakes from trying to type too fast.  The DROID's hardware keyboard isn't perfect either, so it'll be interesting to see which we're faster with.
Obviously we'll be putting this production-build Nexus One through the full SlashGear review process over the next few days, and given CES 2010 kicks off in earnest at the end of the week the smartphone certainly has a challenge ahead of it.  Can the slender battery keep up with the 3.7-inch AMOLED display, plentiful connectivity and speedy processor?  We'll let you know soon enough...