Google News now optimized for tablets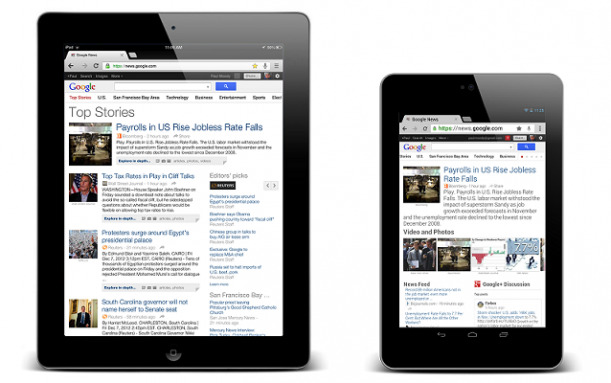 Google has announced that Google News has been optimized for tablet devices, such as the Nexus 7 and the iPad. When accessed from a tablet, Google News shows an updated design, which isn't terribly different than what you see when accessing the website from a desktop browser. With the update comes a few features that makes tablet browsing easier.
The first thing you notice when accessing Google News on a tablet is its rather clean, streamlined look. There's less "junk" to deal with, and white space has been smoothed out and minimized so that it isn't obtrusive. The display size on the tablet you're using to access Google News will influence how the website is displayed.
When using a smaller tablet, such as the Nexus 7, the website's layout doesn't include the right-side Editors' Picks sidebar, as well as the "Explore in Depth" option and article excerpts. When using a bigger tablet, however, such as the iPad, the "Explore in Depth" option is available, as are excerpts and the ability to see editor picks on the right side of the browser.
Readers can use various swiping gestures to navigate through Google News from a tablet. Swiping to the side, for example, allows one to flip through sections. Says Google, "There's something special about reading news on your tablet. Indeed, swiping through articles brings to mind the familiar feeling of flipping through a favorite magazine or newspaper."
[via Google News Blog]