Google 'Nest Mini' 2nd-gen smart speaker leaks with major upgrades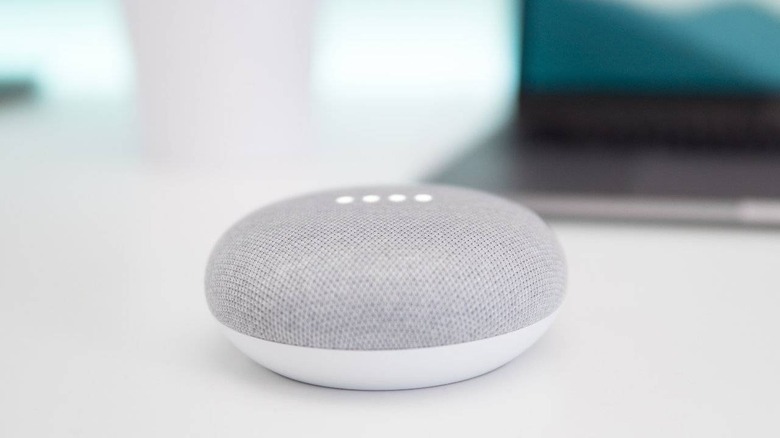 In 2017, Google launched a small, relatively inexpensive smart speaker called the Google Home Mini. This UFO-shaped speaker offers users direct access to Google Assistant at a price point lower than the larger Google Home speaker. According to a new report, Google plans to update that device, launching it as the 'Nest Mini' with major new features.
The Google Home Mini will be renamed the Nest Mini, according to 9to5Google, which claims that it got details on Google's plan for the alleged second-generation model. The current version can be mounted on a wall but requires a third-party mount. As well, the speaker can be connected with a larger, more capable speaker using Bluetooth.
Google reportedly
upon both of those features by launching the Nest Mini with a built-in wall mount and a 3.5mm audio jack. Details about these two features are missing, however, such as how the wall mount will work (it may be a simple groove akin to that of a picture frame) and whether the 3.5mm will be used for audio-in or audio-out (or both).
Assuming the audio jack supports both audio-in and audio-out, the Nest Mini could bring Google Assistant to non-wireless speakers, making it more useful for certain older home entertainment systems. As well, assuming the jack supports audio-in, users could directly connect something like an MP3 player to play audio through the Nest Mini speaker itself.
That latter option may prove true in light of the leak's other claims — Google is reportedly planning to improve the audio quality on its Mini speaker, bringing more powerful bass with louder maximum volume and an overall quality improvement. That improvement makes sense considering how many users utilize the existing Home Mini on its own instead of with a larger third-party speaker.
As well, the Nest Mini will allegedly feature proximity awareness via a motion sensor, though it's unclear how Google would use this feature. Proximity awareness makes sense on smart displays because it enables the screen to automatically turn on as the user moves near to it. Price is unclear at this time, but is expected to remain relatively low to maintain the model's entry-level status.