Google, National Park Service team to digitize 3800+ artifacts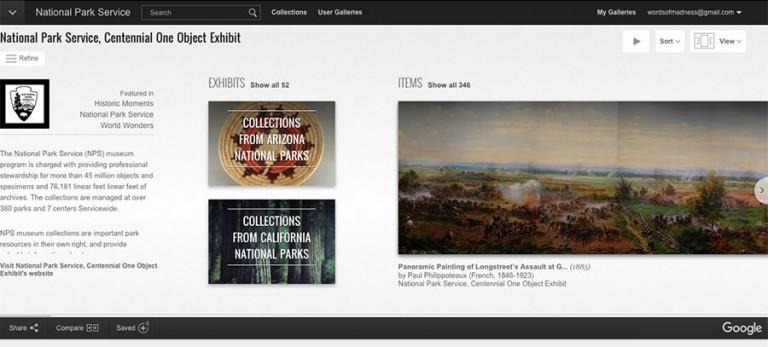 The U.S Department of the Interior has announced a partnership with Google Cultural Institute to digitize and publish "thousands of historically and culturally significant objects" online for the public to explore. The objects include artwork, records, artifacts, photos, and more, and are drawn from the National Park Service's massive museum system (more than 380 park museums and millions of objects). The work was done in preparation for NPS' Centennial anniversary this year.
The digitized content can be found on Google's National Park Service channel, which includes a Centennial Virtual Exhibit, to see major items from across the national parks' histories. There are 52 exhibits up right now, including "Collections from Arizona National Parks" and "Collections from California National Parks."
Very high resolution digitizations of classic American paintings are also included, as well as pages from books, letters, and photographs. One example is a letter written by JP Mose back in 1946; another is a photograph of a cannon from 1863 that had been made by the Revere Copper Company.

Said National Park Service Director Jonathan B. Jarvis in a statement:
The National Park Service is proud to partner with Google to make important symbols of our shared national heritage accessible to more Americans than ever. Visitors to the National Park Service collection in the Google Cultural Institute will have the unique opportunity to see rare Native American artifacts, browse inspiring works of art that convey our nation's history and natural beauty, and virtually walk through the homes of great American thinkers, like Frederick Douglass and Thomas Edison.
The National Park Service's 100-year anniversary will take place on August 25, 2016. This latest effort with Google, which the latter company has praised, not only gives the public access to the historical objects and records, but is also a massive preservation effort, creating high-quality images that will, hopefully, outlast the objects themselves.
Said Google's Senior Counsel on Civil and Human Rights Malika Saada Saar:
The magic of technology is that it allows us to fold space and time to bring people together with places, experiences, artifacts, and each other in ways that before were impossible. That's what the Google Cultural Institute does, and we are thrilled to work with the National Park Service to help preserve these beautiful American places, objects, and stories.
SOURCE: Department of the Interior