Google Music Artist Hub hands on Part 1: getting started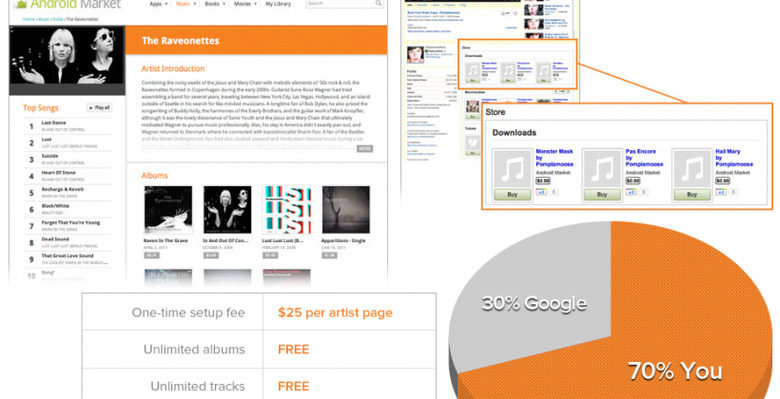 This week Google announced their new Google Music Artist Hub, a part of the Android Market's new music sales initiative and part of Google Music's now public cloud service – it's here that any artist, signed or not, can create a name for themselves in the very real and very live marketplace. What we're going to do here is go through the very basic process an artist will go through themselves to create an Artist Page from whens their music (and music videos) will be sold. I'll be using the pseudo name I use on many projects, A Tiny City, for future reference – don't expect any magical musical break throughs from me, but see how simple this process can be.
To start
The first place you need to go is http://music.google.com/artists where you'll be greeted by a movie (as seen here) as well as some compelling information about how you'll get 70% of all the profit you make from any sales of your media on the market. Once you're convinced, you'll be charged a $25 USD fee once and once only for each page that you desire. If you're just signing yourself up or you're just wanting to get your one band up on the market, you only need one page. Quite simple, and the payment is done with your Google Checkout account – also now brand-tied to Google Wallet, mind you, an otherwise NFC-related system for your Android phone.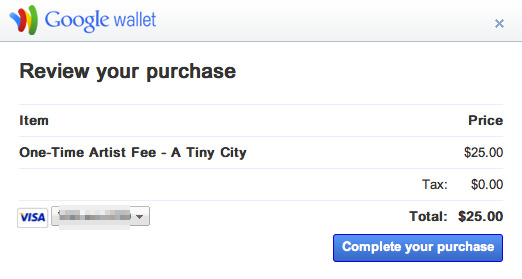 Page Creation
Once you're inside, you'll be creating your page right away, the look of it being contained in a single image (for now, anyway), followed by genres (you can have several), and links. Links start with Google+, this encouraging you to sign up for a brand new page if you've not done so already.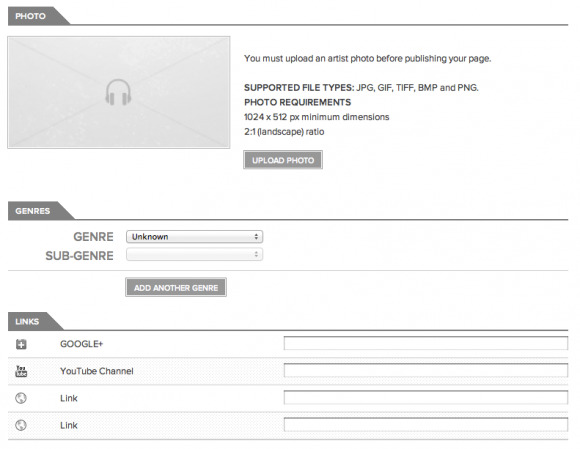 Next link is a YouTube channel, another Google-owned service, mind you. After that there's room for two more links to whatever you want, each of these simply labeled "link." You've also got a place for an artist introduction, this space reserved just for text at the moment – no html!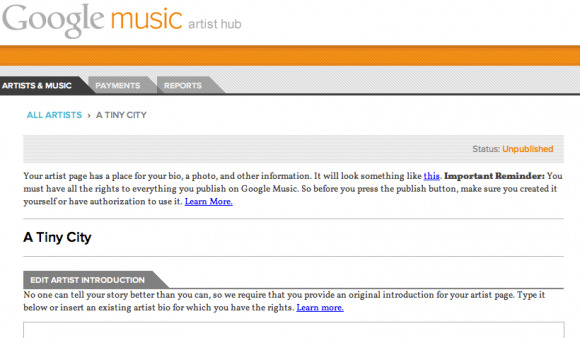 Note here that Google doesn't play around when it comes to publishing things that don't belong to you, that including quotes from other people. In other words, don't publish your dubstep version of Bad Romance or you'll get both kicked out of the store and will be subject to legal claims from several parties. That's not a party you want to be at. "So before you press the publish button, make sure you created it yourself or have authorization to use it."

Getting Paid
After that, you'll have to wait a period of 1-2 days for your page to be approved and you can start with the selling of the music. Meanwhile you can head over to the Payments tab where you'll be filling out a bit of info and again clicking a button or two letting Google know that you do, indeed, plan on only selling music that you yourself created and have legal rights to. You'll be adding your Legal Business Address if you've not already and clicking the Complete Signup button at the bottom of the page.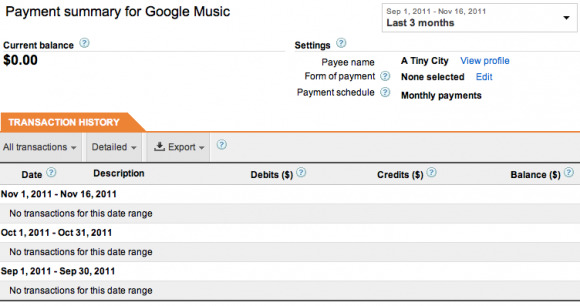 Uploading Music
As for uploading music, first you'll have to create a new album. You can either create an album traditionally, or you could potentially get a little creative if you want to release individual tracks, titling the album "singles" or something to that effect. Add your album cover, upload your tracks, and edit details on each individual track. Simple and intuitive.
Next chapter: YouTube integration and sharing on Google+!